December 8, 2014
Affordable graduation, holiday gift ideas from Friends of K-State Libraries
Submitted by Sarah McGreer Hoyt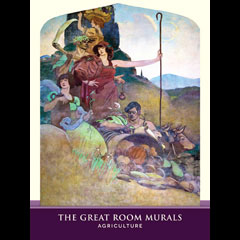 Searching for a graduation gift? Need holiday present for your K-State fan? The Friends of K-State Libraries are offering a variety of options for every budget.
If you're looking for affordable gifts to stuff stockings or fill every night of the festival of lights, stop by the Friends of the K-State Libraries book sale on the main floor of Hale Library. The shelves include an assortment of books, journals and videos. Simply make a cash donation of any amount by depositing it in the slot on the bookshelf.
Looking for something more nostalgic? The Friends of K-State Libraries have created two elegant options featuring the Historic Farrell Library murals.
A set of notecards includes eight 4-by-6-inch cards, two of each mural, with coordinating ivory envelopes. They make perfect graduation or hostess gifts, stocking stuffers, or presents for K-State-loving coworkers. Order now.
Looking to make a larger statement? Choose the 27-by-11-inch framed print: All four mural scenes are printed with fade resistant inks on archival matte fiber paper and mounted on museum quality ragmat, then secured in a wooden, charcoal stain frame. Order now.
The print and the notecards can be shipped to you or made available for pick up at Hale Library for no additional shipping fees. Note cards also can be purchased locally at Strecker-Nelson Gallery and Art Craft Printers & Design.
David Hicks Overmyer painted the four historic Farrell Library murals in 1934 as part of the federal government's Public Works of Art Project. Each is 11 by 14 feet. Subjects represented symbolize the four major academic pursuits of the institution at the time: science and industry, agriculture and animal husbandry, the arts and home economics.
Overmyer, 1889-1973, was born in Topeka, Kansas. An illustrator, artist and muralist, he created murals all over the state, including courthouses in Fort Scott and Norton, at Topeka High School and in the State Capitol Building.
The murals were professionally photographed by Ed Olson in 2011 following a three-year restoration project funded by the Friends of K-State Libraries. Proceeds from the sale of these prints will benefit the Friends of K-State Libraries.