September 5, 2014
Letter from A.D. John Currie: K-StateHD.TV record, Varney's Invitational volleyball at Bramlage Coliseum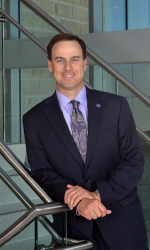 Good Morning K-State Fans!
Last night, we were back into competition as K-State volleyball posted a win over Arkansas of the SEC in Bramlage Coliseum as part of the Varney's Invitational. It has been a busy week already, but before we go on let's look back at last weekend's sixth annual K-State Family Reunion.
Thank you to all the fans who comprised the sellout crowd we had at Bill Snyder Family Stadium for last weekend's season-opening win over Stephen F. Austin — that's 14 straight sellouts and we are well on our way to 20 with six more this season! With season ticket holders from 46 different states and thousands of fans who drive several hours to the games, we truly have a national following and some of the most dedicated fans in college football.
Friday night I enjoyed visiting with a number of our former football players at the West Stadium Center before I headed over to Purple Power Play in the (City) Park. Nothing captures the spirit and classic American community feel of MHK like Purple Power Play, and once again the Pride of Wildcat Land Band, Classy Cats and the cheer squad put on a great show. A highlight for me was catching up with women's basketball legend Brittany Chambers, who was back in town to attend former teammate Kendra Spresser's wedding. Brittany had a great year in Spain and is heading back later this fall where she will be playing for Spar Citylift Girona. She told a great story about a couple K-Staters decked out in purple spotting her in the airport in Madrid this year and the fun visit she had with them.
Early Saturday morning I took a long bike ride along MHK's great linear park and then through Poyntz, Aggieville, campus and around the athletic complex. Later, I returned to the stadium for some recruiting visits and walked through Vanier. So many people — student managers and trainers, parking and usher supervisors, and many more work so hard and take so much pride in a successful gameday operation.
You might have seen on twitter some of the pictures I took on the field of the Pride stretching and warming up - keep in mind that this was four or five hours before game time and they were already out in the hot sun getting ready. My favorite part was that they rehearsed, two or three times, the actual running onto the field from the northeast drive, which they do each pregame show, right after the teams finish their warmups. Dr. Tracz and Coach Snyder certainly share a deep understanding of the value of repetition to ensure successful execution!
On gameday, I love watching the town, the parking areas and seating steadily fill with a sea of purple as game time draws closer. Despite the heat we were blessed to avoid the thunderstorm delays which affected a number of other games, and I saw a number of fans entering the gates taking advantage of our policy of allowing a one-liter sealed cap bottle of water into the stadium. And, as is now tradition, our ticket takers and operations staff do a great job of greeting fans with our customary "Welcome to K-State" motto.
Our students were in full force for the game — and early — filling in the majority of their sections an hour before kickoff. We have the best student section in the country, and I know they cannot wait until Sept. 18 for their next chance to showcase their K-State football pride!
Record-Breaking Day for K-StateHD.TV and K-State Super Store
K-State fans from around the world tuned in live in record numbers for our exclusive K-StateHD.TV broadcast of the 55-16 win over SFA. Viewership was up 26 percent from last year as K-StateHD.TV continues to be the nation's No. 1 digital network. It was also a record-breaking day at the K-State Super Store locations both at BSFS and at the new flagship store on McCall Road.
Down on the field before kickoff I visited again with a number of our former players. I got a tap on my shoulder and turned around for a big hello from former players and Pinstripe Bowl veterans Aubrey Quarles, Adrian Hilburn and Josh Berard — Aubrey and Adrian both live and work in Denver, while Josh is doing a great job keeping the peace here in MHK as a Riley County police officer.
I also had a nice pregame chat in the visiting AD suite with SFA basketball coach (and of course K-State alum, former player and assistant coach) Brad Underwood and his wife Susan, who were appropriately attired in purple, albeit with a different logo. We are especially appreciative of Susan who was our son's first teacher in MHK five years ago!
A number of former Wildcats joined Mary Lawrence and I in the home AD suite, including former K-State hoopsters Rodney McGruder and Victor Ojeleye. Rodney is working out with an NBA team after a fine year in Hungary while Victor is off to a great start in his business career with Koch Industries in Wichita. Reigning USA high jump champion and K-State grad Erik Kynard was also there — he is getting ready to head to Morocco for another international competition. Our K-StateHD.TV pregame show co-host and retired NFL veteran Jon McGraw and his wife, Gretchen, joined us too, and I was delighted to get a late Friday text from former Wildcat golfer Aaron Watkins, who had decided to come in for the game Saturday directly from his event on the Web.com Tour. Aaron has had a strong finish to the Web.com Tour season as he is battling to re-earn his PGA Tour card. He's currently back in action at the Chiquita Classic in Davidson, North Carolina. Regardless of where they came from or the sport they played, all share a passion for their alma mater!
Volleyball's Varney's Invitational
While Big 12 football play opens up this weekend in Ames, Iowa, I would like to remind the K-State Nation about this weekend's volleyball Varney's Invitational at Bramlage Coliseum. Following a 2-1 weekend in Green Bay to open the season, Coach Fritz and the squad welcomed Arkansas (last night), Middle Tennessee State (tonight at 7 p.m.) and UCF (Saturday at 7 p.m.) to Bramlage as we test drive a new arena configuration. We hope to see you there! Of course you can catch the matches live on K-StateHD.TV as well!
Great Season on the PGA Tour for Robert Streb
Speaking of K-State golf, congratulations are in order to Robert Streb for an outstanding year on the PGA tour and for advancing to the second tournament of the Fed Ex cup playoffs. Robert eagled the final hole of this past weekend's Deutsche Bank Championship to finish tied for 9th. Unfortunately, his point total put him in 71st place overall - with just the top 70 point totals advancing to the next round. But this represents a huge jump from his 126th place finish in 2013, and he's already earned his PGA card for next year.
MHK on the Move — A Gateway to the World
As I boarded the American Airlines 7:10 a.m. departure to Chicago earlier this week, I ran into Jeff Gill, founder and CEO of Manhattan's own Tallgrass Brewery. Jeff is an example of the growing number of young entrepreneurs who have started successful businesses right here in MHK. On this particular morning, Jeff was on his way to Munich to buy German hops!
Last Friday, I read in Ken Corbitt's excellent Topeka Capital Journal story about Coach Snyder that Manhattan's population is now over 56,000. When my family moved here in 2009 the population was under 50,000! It has been amazing to see the growth around town — new businesses, new hotels, new homes and apartment buildings, new highways (K-18, etc), and of course all the new K-State academic buildings I mentioned in last week's letter!
Thoughts and Prayers for Coach Knight
Our thoughts and prayers are with our long-time women's golf coach Kristi Knight, whose mother passed away earlier this week. Services will be next Tuesday in Texas.
That's it for today! I look forward to seeing lots of purple in Ames both at the Alumni Association pregame event and in Jack Trice Stadium as K-State and the Cyclones kick off the Big 12 season. Remember that you can listen along the K-State Sports Network and online at k-statesports.com, while you can watch the FOX Sports 1 live national broadcast at 11 a.m.
Best of luck to both of our cross country teams as they begin the season in Wichita on Saturday.
Thank you for all that you continue to do in support of K-State student-athletes!
Go Cats!
John Currie