September 5, 2014
Preseason hockey on campus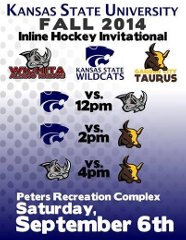 The Kansas State University Inline Hockey Club will play a couple of preseason warmup games Saturday, Sept. 6, at the K-State Recreation Center. The following games are free and open to the public.
At noon we will play the Wichita Albino Rhinos.
At 2 p.m. we will play the Garden City Taurus.
At 4 p.m. the Garden City Taurus and the Wichita Albino Rhinos will play each other.
These contests are very early preseason events for all three clubs and will be used to expose new members to game situations and introduce our players to our game plan, which we will use during our season.
The K-State Inline Hockey Club has been an organized club sport on campus since 1995. We have qualified for the National Collegiate Roller Hockey Association national tournament five times, finishing as high as the Final Four in 2001 and 2012, and made the Sweet Sixteen in 2002, 2013 and 2014.
The club is open to all students. For further information about the club please email Coach Jerry at hockey@k-state.edu.