September 8, 2014
Student Alumni Board recognized for excellence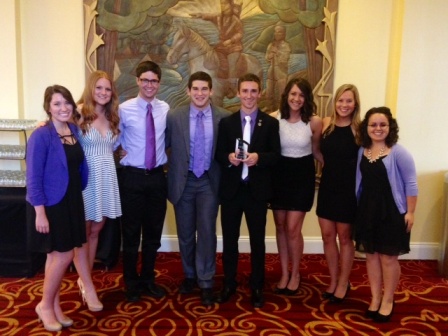 Student Alumni Board, a program of the K-State Alumni Association, received the award for the 2014 Outstanding Internal Program for its new member training program at the Council for Advancement and Support of Education Affiliated Student Advancement Programs Network Convention in St. Louis, Missouri, Aug. 7-9.
"Student Alumni Board is a group of well-rounded, creative and engaged students who are passionate about their university," said Amanda Brookover, Student Alumni Board adviser and assistant director of student programs for the K-State Alumni Association. "It is wonderful to see how K-State and our students continue to be leaders among universities all across the country."
Student Alumni Board currently has 41 members whose primary mission is to promote and serve Kansas State University and the alumni association. Board members are responsible for planning and hosting several programs to recruit students to K-State, including the For Sophomores Only program for high school sophomores and the Just for Juniors program for high school juniors and their parents. Board members also coordinate and assist with the Wildcats Forever student alumni association, Grad Bash, the Distinguished Young Alumni Award, Junior Wildcats Club and other Alumni Association programs and events.
"Current K-State students are very important to the alumni association, which is why Student Alumni Board was created more than 30 years ago," said Amy Button Renz, president and CEO of the K-State Alumni Association. "Inviting students to become involved and engaged with the K-State Alumni Association while they're still in school helps the association stay in touch with the needs of K-State students. This allows us to better serve students during their college careers and to help them have a successful transition into becoming K-State alumni and staying connected to their alma mater for life."
Apply to become a Student Alumni Board member.