May 13, 2014
Letter from A.D. John Currie: Reflecting on first five years at K-State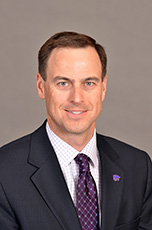 Good morning, Wildcat Nation!
It has been an incredible first five years, thanks to the support of Wildcat fans worldwide, the efforts of our student-athletes and coaches, and of course the transformational leadership of President Schulz. We have made incredible progress towards the K-State vision of a model intercollegiate athletics program. We've emerged from a position of fiscal weakness to one of stability and from a period of conference alignment insecurity to a new era which sees the Big 12 as one of the leading leagues in the country. In the meantime we've had some incredible Championship Athletic Performances, including Big 12 team championships, multiple Big 12 and NCAA individual titles and post-season appearances by nearly all our teams, all while producing an outstanding APR and graduation record.
But, this is no time to rest – let's keep building together to deliver a world-class student-athlete experience and permanently secure K-State's position of strength within the upper echelon of intercollegiate athletics! Thank you for your continued support!
Speaking of the Big 12, I spent several days earlier this week in Phoenix at our spring conference meetings, which include our football and men's and women's basketball coaches. Among other things, we talked for several hours about the recent NCAA rule, which will offer us significantly more flexibility in how we provide performance nutrition to our student-athletes. The new Ahearn Fund Student-Athlete Performance Table in the West Stadium Center gives us a leg up in taking full advantage of the new rule, while we also are enabling sports nutritionist Scott Trausch to expand our offerings at the fuel stations dispersed in our different strength and conditioning spaces.
Effective July 1, you'll exclusively see the Big 12's new logo, and we are hard at work changing over the league brand in all of our facilities and uniforms. Our league is coming off a tremendous year including being the No. 1 rated men's basketball conference with 70 percent of our teams in the NCAA tournament, big bowl victories over the likes of Alabama and Michigan, and the intensity of our true round robin schedule format benefits our fans, both attending and watching at home.
This season begins the College Football Playoff era, and from everything I saw and heard in the presentations and discussion this past week, strength of schedule will be a critical piece of analysis by the new playoff selection committee. Keep in mind that the CFP committee will not only place teams into the four playoff spots, but also will take over filling the eight spots in the other access and contract bowls each year. So, for the Sugar, Orange, Rose, Fiesta, Peach and Cotton Bowls, the days of selections being made by their own bowl committees are over. Certainly this year's K-State schedule will be one of the most challenging in the country with defending SEC champion Auburn coming to town along with our robust Big 12 slate. I believe that we'll continue to be in position to have seven home games in MHK nearly every year, but it is clear that schools who do not challenge themselves in the non-conference portion of their schedule will be at a disadvantage in the eyes of the committee.
This coming week K-State students will be fully immersed in exams and of course we'll have a bunch of graduating student-athletes this weekend. Friday night the department will host our bi-annual reception and senior ring ceremony for our graduates and their families - congratulations to all K-State seniors making the big walk - we look forward to seeing you back in MHK often!
Now, here are some additional notes from around the department.
Evan Marshall called up to major leagues; earns first win
Former Wildcat pitcher Evan Marshall, who played for Coach Hill from 2009-2011, got the call of his dreams earlier this week when the Arizona Diamondbacks activated him. Evan joins fellow pitcher Carlos Torres (NY Mets) as the two former Cats currently in the majors. Evan made his MLB debut on last Tuesday night and did not disappoint, picking up his first win after tossing 1 1/3 scoreless innings of relief in Arizona's 7-5 win over Milwaukee. Congratulations to Evan and his family, and we look forward to watching him closely throughout his career.
Daniel Wood, Petra Niedermayerova selected for NCAA regional play
Following a terrific spring, senior men's golfer Daniel Wood has been selected to participate as an individual in Thursday's 2014 NCAA Columbia (Mo.) Regional. Daniel is the first Wildcat to receive a regional invitation since Mitchell Gregson and Joe Ida in 2010, and was one of 45 individuals selected for regional play, including one of five at the Columbia Regional. We wish Daniel the best! This postseason will also mark the last for Coach Tim Norris as he is retiring from his position as head coach following 17 seasons. We certainly appreciate what he has done to build the golf program and the tireless commitment he and his wife, Shelley, have given to K-State. Check K-State Sports Extra and k-statesports.com this week for an in-depth look at Coach Norris' career at K-State. And if you haven't already seen it, our own Kelly McHugh had a terrific story on Daniel as well – click here for that story. We also would like to wish Petra Niedermayerova, the career singles and doubles leader in school history, the best of luck May 21-26 as she will be competing in her fourth straight NCAA Tennis Championships – her four-year run in NCAA play is also a new school record!
Rowing eyes Conference USA Championships; Dykmann named Big 12 Newcomer of the Year
Coach Sweeney and our rowing team have made tremendous progress this year on the water, and heading into next weekend's Conference USA Championships they will be riding the momentum from a Big 12 Championship weekend that saw the squad nearly pull off its first-ever conference championship – the rowing team competes in both leagues. Following a win by the 2nd Varsity 4, the team title came down to the final race where eventual champion Oklahoma narrowly defeated the Wildcats to pull out the slim win. In addition, freshman Noelle Dykmann, the lone freshman on the team's 1st Varsity 8 this season, was named Big 12 Newcomer of the Year by the league's coaches, becoming the first-ever K-State rower to earn the prestigious honor. Noelle has also been honored this season with Academic All-Big 12 and Conference USA Commissioner's Honor Roll accolades for her efforts in the classroom. Congrats to all of our rowers on a terrific season and good luck in Tennessee next weekend.
Track and field gets ready for Big 12, NCAA regionals
I had the opportunity to catch some of Saturday's final track meet of the season as Coach Rovelto's crew tuned up for post-season competition by hosting the Wildcat Open at the R.V. Christian Track Complex. The highlight for me was witnessing Erica Twiss set a personal record with a leap of 6.37 meters in the long jump. For those of you using the kings measure that's over 20 feet - basically jumping over two long picnic tables pushed end-to-end. Congratulations to Erica and her teammates and best of luck next week at the Big 12 meet!
Final baseball series this weekend with Texas coming to town
The spring's baseball season has been a testament to how tough the Big 12 is across the board. Despite a number of major pitching injuries K-State has been good enough to sweep in-state rival and traditional power Wichita State and go 5-1 versus Iowa and Nebraska of the Big 10, but have had a tough go in league play. Our fans have been terrific all year with record setting attendance (including three fine crowds last weekend) and we hope you will join us this week as the Batcats wrap up the regular season hosting the 19th-ranked Texas Longhorns at Tointon Family Stadium with games at 6:30 p.m. Friday and Saturday and 3:30 p.m. Sunday. Come out and salute this year's senior class, led by All-American Ross Kivett, Manhattan's own Blair DeBord (and other key seniors) as they play their final games as Wildcats.
Men's basketball schedule update: Season tickets on sale soon
This past week we announced two key non-conference matchups with schools from the Southeastern Conference with games against Georgia and Tennessee. The home-and-home series with the Bulldogs will begin on New Year's Eve this year with a game in Bramlage before traveling to Athens in 2015. The matchup with the Vols is part of the Big 12/SEC Challenge announced by the league office and will take place on Dec. 6, 2014, in Knoxville. The Big 12 was 7-3 in this past year's challenge games with the SEC, and we are looking forward to both of these non-conference matchups with two great opponents. Season tickets for the 2014-15 season will go on sale next month, so stay tuned for tickets options and information!
Student-athletes hold annual Powercat Choice Awards
Finally, this past Thursday night was a special evening for our student-athletes as they hosted the fifth-annual Powercat Choice Awards in Bramlage Coliseum. The ceremony, for the student-athletes and put on by the student-athletes, resembles the ESPY Awards and includes all team and individual highlights from the past year both on the field and in the classroom. All the performance-related awards were voted on by members of the Student-Athlete Advisory Committee (SAAC). The voting was based on the accomplishments of sporting teams from spring 2013 to winter 2014. This year also was extra special as we honored the late Mark A. Chapman, the namesake for the terrific event. Mark, his wife Cheryl and their entire family have been longtime supporters of both Kansas State University and K-State Athletics, and Mark had a true desire to see our student-athletes succeed academically. Click for a video recap of the annual event.
That's it for today. I look forward to seeing you this weekend at Tointon Family Stadium, and thank you for your continued support of K-State student-athletes!
Go Cats!
John Currie