May 1, 2014
Letter from A.D. John Currie: Highs include 10,000th Ahearn Fund member, football season tickets sold out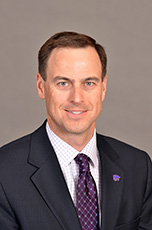 Good morning, Wildcat Nation.
Following a busy and exciting spring game weekend we've been back in the office and hard at it this week, starting Monday morning with various meetings and our annual Career 'Cats luncheon for our junior and senior student-athletes. We'll touch on all of the activities shortly, but first I would like to thank our entire staff and all of Wildcat Nation for their support in making all of the spring game weekend events a huge success.
Special Honorary Coaches Assist with VFC Announcement
It was great to see all of our Golden 'Cat and Ring of Honor members who were back in town for Saturday's spring football game, and I would like to especially thank former Wildcat greats Terence Newman and Darren Sproles for making the trip "home" for the weekend as special honorary coaches. Our 600-plus Ahearn Fund members in attendance at Friday's Powercat Auction especially enjoyed visiting with some of their favorite Wildcats, including NFL alumni Nick Leckey, Ryan Lilja and Jon McGraw.
It was a tremendous honor for me to be on the field pre-game with Darren, Terence and President Schulz to announce to the 17,000-plus fans in attendance plans for Phase III of the Bill Snyder Family Stadium Master Plan – the Vanier Football Complex and North Stadium Project. Among my most enjoyable moments so far at K-State have been when student-athletes and fans react to new announcements and see new plans and videos — much like at the Cotton Bowl pep rally when we announced plans for the West Stadium Center — and in this case on Saturday the unveiling of our next critical athletics facility project. See our full announcement, watch the unveiling video and our full master plan website.
While more than half of the $65 million in necessary funding has already been secured, it is imperative that Wildcat fans continue to contribute, at any level, and be a part of the Vanier Football Challenge campaign to help K-State remain a national leader in college athletics. The funding plan currently calls for $50 million to be privately funded through philanthropic giving with the remaining $15 million coming from other department revenues. No tax or tuition dollars will be used! Thank you for your continued support!
Powercat Auction Sees Record Support/Ahearn Fund Reaches 10K!
The weekend got off to a great start with our annual Powercat Auction at Bramlage Coliseum, which remains our department's single-largest fundraising event and supports the Ahearn Fund, our National Fund for Student-Athlete Excellence. This year's event raised a record $430,000 (approximately $160,000 more than last year!) and I would like to thank our auction committee, staff members and the 100 student-athletes who participated for their hard work in making this event the best it's ever been. Two of the big highlights from the evening included a special presentation to Donna Vanier for her continued support of this event, and an announcement from Senior Associate AD Chad Weiberg stating that we have surpassed the 10,000 member mark in the Ahearn Fund following our 50-for-50 campaign! Thanks to Houston, Texas, natives James and Alpha Heggie for becoming the 10,000th members! And those of you who are not Ahearn Fund Members, you can still join for as little as $50 per year and play an integral role in providing K-State student-athletes with a world-class experience.
Kaiden's Play
Of course the most memorable moment from Saturday's spring game happened at the end of the third quarter, and if you haven't seen Kaiden's Play yet, what a touching moment it was. Young Kaiden Schroeder has been a big Wildcat fan for some time, and our players – led by All-American Ryan Mueller – have really developed a special bond with him and his family. You can read Kaiden's story here, and be sure and watch his touchdown run from Saturday's game when he took a handoff from Jake Waters and raced behind a wall of offensive linemen into the end zone – a very special moment for Kaiden, his family, our student-athletes and all of our fans! I am proud of Ryan and his teammates for investing so much of their time and energy - on their own initiative in supporting Kaiden and his family.
Season Football Tickets Reach New Heights, Sold Out Again!
I am grateful to our fans and pleased to announce that season ticket totals for the upcoming season have reached unprecedented levels and will be sold-out for the second consecutive year! The ticket office will be communicating with all ticket-holders soon regarding the status of their ticket order and with log-in information for the new electronic seat selection system. With a renewal rate of over 97%, and a record number of new ticket requests, we are on track to run the consecutive sellout streak at Bill Snyder Family Stadium from 13 games to 20 with seven more capacity crowds in 2014! Be sure to pay attention to the on-sale dates in June for any remaining single game tickets. Thank you Wildcat fans for providing the Best Fan Experience in the Big 12!
Former Wildcat Robert Streb Breaks Through on PGA Tour
On Sunday afternoon I was glued to CBS' final round coverage of the PGA Zurich Classic in Louisiana as Wildcat alum Robert Streb battled in contention throughout the final round, wearing purple of course! After sinking a 70 foot putt for a magnificent eagle on No. 2, Robert later sat atop the leaderboard and battled on to finish as the runner-up in the event – his best-ever finish on the PGA Tour! Congratulations to Robert and his wife Maggie. Best of luck to him this week at the Wells Fargo Championship in Charlotte, N.C.
Seniors Wood/Misenhelter Lead Teams at Big 12s
Both of our golf teams wrapped up their seasons this past weekend at the Big 12 Championships, and I was so proud of the play of seniors Daniel Wood and Gianna Misenhelter in their final action as Wildcats. Daniel shot a final-round 69 to shoot up 12 spots on the leaderboard and finish in a tie for seventh place. Gianna shot a 70 in the first round, the third-best score of the day, and went on to finish in a tie for 19th after the final two rounds to lead the women's squad. Daniel and Gianna are tremendous examples of the kind of student-athletes we are fortunate to have at K-State – hard working, smart, passionate and tremendous citizens!
New WBB Staff Settling In/Hosting Camps
Coach Mittie and his staff have hit the ground running since their arrival over the last month – from working on finalizing a staff to recruiting trips to hosting families and recruits in Manhattan to some individual player workouts. Our team has really enjoyed getting on the floor with the new staff and beginning preparations for next season. The first opportunity for our fans to engage on the floor with our staff will be this summer as they will host three camps beginning in June for a variety of age groups and experience levels. We are excited to have Coach Mittie, his staff and their families on board!
Tennis Closes Out Year at Big 12 Championships, Niedermayerova Awaits NCAA Bid
After a dominating season-ending win on April 19 over KU in front of a record crowd at Mike Goss Stadium, I was proud of our very young team winning its first round match over West Virginia at the Big 12 Championships before falling to No. 25 Oklahoma State. Petra will now await a potential NCAA singles bid which is scheduled to be announced tomorrow. We are now fully engaged in our search for a new head coach and will update you when we are ready to make an announcement.
Year-End Banquets for Rowing and Equestrian
Sunday featured a special event in the West Stadium Center as we honored our rowing team not only for a successful season but also the nine seniors who will soon compete as Wildcats for the final time. Our goal is for each of these seniors to leave K-State with a degree in hand and be able to say that they had a world-class experience during their time as a Wildcat student-athlete, and I truly believe the answer to both is a resounding "YES!" This weekend we will host the equestrian team banquet as we honor its season and recognize the 20 senior student-athletes for terrific careers!
That will do it for today. Best of luck to our women's rowing team this weekend at the Big 12 Championships as well as baseball at TCU and track and field here at the Ward Haylett Invitational. Head on out to the outdoor track complex and enjoy Saturday's weather as events kick off at 9:30 a.m. – the squad will be at home this weekend and next weekend before heading to Texas Tech for the Big 12 Outdoor Championships.
Go Cats!
John Currie