May 1, 2014
Korenek selected for prestigious financial management institute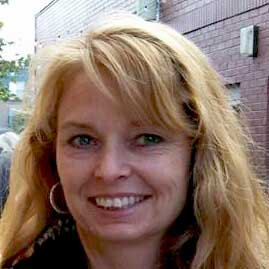 Camille Korenek, unit director at Van Zile Dining Center and registered dietitian for housing and dining services, has been chosen to participate in the 2014 Financial Management Institute, one of eight professional development institutes coordinated by the National Association of College & University Food Services, or NACUFS.
Available exclusively to association members, the eight institutes are among the most rigorous and rewarding programs offered by the association. More than 200 applications were received for the 2014 summer institutes. Applicants are selected through a multistage process involving association leaders at both the regional and national level.
"The eight NACUFS institutes are designed to build up a successful food service professional. Furthering our education and developing our professional skills is crucial in order to elevate campus dining and carry out the mission of NACUFS," said Guy Procopio of Michigan State University, chair of the association's Education Committee.
Each institute lasts four to six days and offers classroom instruction, appropriate sponsor and campus tours, extensive peer-to-peer interaction and an individual or group project for immediate application of the program content.
The Financial Management Institute, May 31 to June 5, focuses on the financial components of collegiate food service management, including budgeting, data analysis and reporting. This institute takes place in Omaha, Neb., and is sponsored by ConAgra Foodservice.
"I'm excited for this opportunity to further my professional growth in a unique environment with other peer professionals from across the nation," Korenek said. "Entry into a NACUFS institute is very competitive with the expectation that the knowledge you gain will be used to serve both your educational institution and NACUFS in a leadership capacity. I look forward to fulfilling those obligations."
Founded in 1958, the National Association of College & University Food Services is the professional trade association for food service professionals at institutions of higher education in the United States, Canada and abroad. It provides its more than 550 institutional and 500 industry members with educational, networking and professional development opportunities, as well as a variety of informational publications. The association is also heavily involved in industry research.