March 24, 2014
Brenee King to present Boyer-Switzer Lecture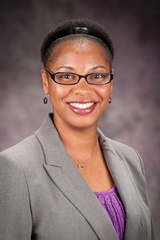 Join the Black Faculty Staff Alliance for another presentation in the Boyer-Switzer Lecture Series from noon to 1 p.m. Monday, March 24, in the Hemisphere Room in Hale Library.
Brenee King, program coordinator in the provost's office, will discuss her transition from graduate school to full-time coordinator of K-State's Kansas Louis Stokes Alliance for Minority Participation project. An alumna of the University of New Mexico, she will begin with an overview of her dissertation research in biomedical science, her work as a K-State postdoctoral researcher, as well as her research in the College of Human Ecology.
Lastly, King will discuss the newly funded Kansas Louis Stokes Alliance for Minority Participation program. In this position, she promotes the engagement and support of underrepresented students in science, technology, engineering and math fields.
Bring your lunch and join us for the lecture. Light refreshments will be available.