March 12, 2014
PEN Trio to perform concert of commissioned works tonight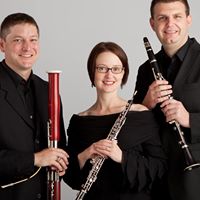 The PEN Trio will perform a concert of new music commissioned by the ensemble at 7:30 p.m. today, March 12, in McCain Auditorium's Kirmser Hall. The program includes "Found Objects: On the Beach" by Jenni Brandon in 2013, "Oblique Strategies" by Aleksander Sternfeld-Dunn in 2014, a world premiere of "Walking the Cotswolds" by Allen Cohen in 2014, and "5*4*3 (except after C)" by William Bradbury in 2013.
The PEN Trio was established in 2010 by oboist Nora Lewis, associate professor of music at Kansas State University; clarinetist Phillip O. Paglialonga, faculty at Virginia Tech; and Eric Van der Veer Varner, principal bassoonist of the Windsor Symphony Orchestra, to explore and expand the repertoire for the traditional Trio d'Anches. The ensemble has appeared throughout the United States and Canada, and has visited dozens of universities across North America, performed at national and international academic conferences, chamber music series and private functions. The trio recently partnered with TrevCo Music Publishing to create the PEN Trio Collection, which features critical editions of existing works as well as works written for the PEN Trio.
During summer 2014, the trio will record recently commissioned works with support from a Kansas State University small research grants program.