March 27, 2014
Lipkin to speak about advances in pathogen discovery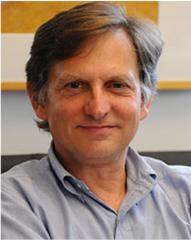 Ian Lipkin, Columbia University professor, will present "Small Game Hunting" at 4 p.m. March 28 in 120 Ackert Hall for the weekly Division of Biology seminar series.
Lipkin is a John Snow professor of epidemiology and professor of neurology and pathology at Columbia University as well as the director of the Center for Infection and Immunity and the National Institutes of Health Center for Diagnostics and Discovery.
He will discuss his past and current work on the epidemiology of major diseases and the discovery of the pathogens causing them. The seminar is open to all interested students and faculty.
The fields of microbial diagnostics and discovery have burgeoned with the advent of high-throughput sequencing platforms and bioinformatics programs. These enable rapid identification and molecular characterization of known and novel agents, investments in global microbial surveillance that include wildlife and domestic animals as well as humans, and recognition that infection may be implicated in chronic as well as acute diseases.
Lipkin will review methods for microbial surveillance and discovery, strategies and pitfalls in linking discoveries to disease and point to opportunities for improvements in sequencing instrumentation and analysis, use of social media, and medical informatics that will further advance clinical medicine and public health.
Lipkin has been named "the world's most celebrated virus hunter" by Discover Magazine and is responsible for the molecular characterization of more than 500 viruses. Some of his other contributions to science include the first use of genetic methods to identify an infectious agent as well as the first use of deep sequencing for pathogen discovery.
During the height of the SARS outbreak in China, he was invited by the World Health Organization to bring test kits into Beijing. More recently, he was the sole external investigator to be invited by the Ministry of Health in Saudi Arabia to assist in identifying reservoirs and vectors for transmission of the emergent MERS coronavirus. Additionally, Lipkin actively participates in translating science to the public through print and digital media and acted as chief scientific consultant for the Hollywood film "Contagion."