November 18, 2013
Let's finish the season with a United Way victory
Submitted by Communications and Marketing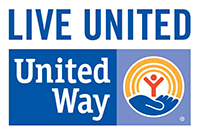 In the last two weeks of November, let's see if we can support our communities in a time of growing need.
More than 550 K-State donors have pledged nearly $85,000 to the United Way. We thank those who have helped and urge you to consider helping if you have not already. The needs of our neighbors cannot be ignored. The city of Manhattan has a 27.6 percent poverty rate (U.S. Census 2010). Our agencies all report record demand for services in the past two years, telling us there are many in need in this area
Giving is easy through Employee Self Service/HRIS. You must renew your pledge every year for United Way to comply with legal guidelines. Another option is to directly donate with a credit card to United Way of Riley County.
United Way-funded programs directly served more than 29,000 individuals in 2012 — that's more than one in three of us. Funds raised this fall will help provide services to 12 community partner agencies that offer 20 programs in our six service counties: Clay, Marshall, Pottawatomie, Riley, Wabaunsee and Washington.
As the largest employer in Manhattan our donations make a tremendous impact on the health, education, and income needs of our most vulnerable citizens. Our community goal is to raise $500,000 to meet these needs. Please join us in celebrating 70 years of service by living united.