November 18, 2013
Learn Office 365: Getting started with calendars
Submitted by Information Technology Services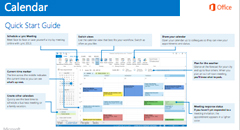 The campus is in the process of migrating to Office 365. To begin learning about the calendar component of Office 365, check out the following tutorials and reference guides:
Another way to learn about Office 365 is the Office 365 Migration group on Yammer. This online chat allows users to ask questions and share their thoughts. See Getting Started with Yammer for K-Staters.
Learn more information about the move to Office 365.