Welcome to the Department of Philosophy!
What is Philosophy?
All of us make assumptions that profoundly influence how we live--assumptions about what's valuable, what the world is fundamentally like, and what we know. When we do philosophy, we critically examine these assumptions in an attempt to clarify for ourselves what we should believe and why we should believe it. In pursuit of these goals, philosophers cultivate precision of thought, clarity of expression, and sensitivity to multiple perspectives.
We are an undergraduate-focused department with research strengths in philosophy of science, social and political philosophy, decision theory, ethics, aesthetics, philosophy of language, and philosophy of mathematics. We offer several tracks within our philosophy major, as well as a minor. Our curriculum prepares students for a wide variety of careers, including law, medicine, business, education, and ministry.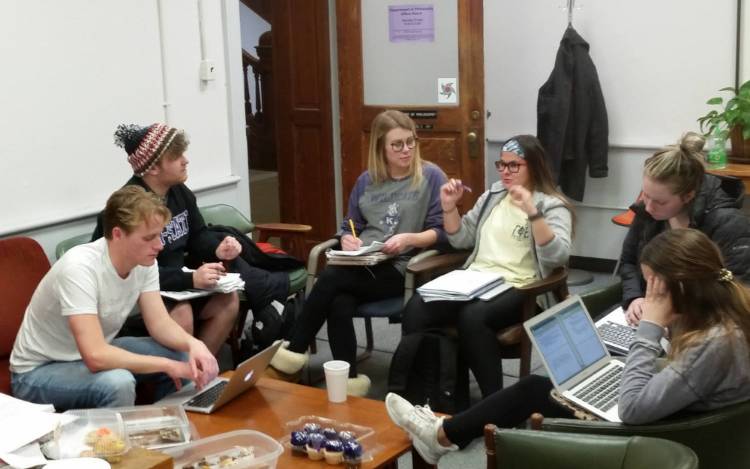 Studying for finals and tutoring in the Tilghman lounge
Welcome back! The philosophy department's weekly tea time, Rationali-tea, will resume in the Fall. Rationali-tea takes place every Thursday in 201 Dickens Hall. **If you are interested in joining us, please email Teresa (philosophy@ksu.edu) to get on the mailing list!