Debbie K. Mercer
Dean, College of Education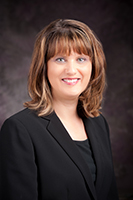 Debbie K. Mercer serves as dean of Kansas State University's College of Education, the state's largest teacher education program. She joined the university in 2010 and was named to the leadership position in June 2012.
Mercer's accomplishments as dean include a commitment to teaching and learning by instituting a number of strategic initiatives designed to create a technology-rich learning environment. Classrooms and conference rooms are receiving technological upgrades, and preservice teachers and instructional faculty members have received iPads that have been integrated into the curriculum. Several faculty members have applied for College of Education grants and developed open/alternative textbooks that align with these technology initiatives. But Mercer's vision extends far beyond Bluemont Hall.
In 2014, the college hosted its first iCamp, a daylong iPad professional development institute for Kansas educators at all levels. The same day, the college also hosted the inaugural iPad Technology Initiatives Summit designed for technology directors in school districts across Kansas. Mercer also has led the college's concentration on international education and outreach through a number of different programs, including GoTeacher, a contract to train 3,000 Ecuadorian teachers in English as a foreign language. A strong supporter of the military, Mercer has signed on to the nation's Joining Forces Educate the Educator program. In addition, she commissioned a video focusing on military life to enhance the educational opportunities of the college's preservice teachers and graduate students. Mercer has also kicked off a recruitment program "Why Teach?" to attract underrepresented populations to the profession.
As a specialist in children's literature, Mercer has published an edited book of authentic children's voices and their aesthetic response to literature, as well as numerous articles related to selection and use of quality children's literature. She currently serves as co-editor of the Kansas Journal of Reading.
Mercer's leadership and guidance have had a statewide impact on teacher preparation. Her work led to the development and implementation of assessment systems to document effective candidate preparation for teachers and school personnel.
She has also provided extensive service to the Kansas State Department of Education, including accreditation-related activities such as consulting for the department's accreditation training workshops, serving as a program reviewer and a board of examiner for onsite visits. Additional state education department work includes service on the Kansas Education Commission, Kansas Education Leadership Commission, Kansas Teaching Commission and Kansas Educator Evaluation Project. She was named by Gov. Sam Brownback to the Mid-Continent Regional Advisory Board and most recently appointed to the Central Comprehensive Center.
Her road to the deanship at K-State began as a library media specialist then a kindergarten teacher in a rural Kansas school district. After six years, she began work as a graduate teaching assistant at K-State then in 1998 accepted a faculty position at Fort Hays State University. She quickly ascended through the ranks and was named interim dean in 2005 then dean in 2006, a position she held until her appointment at K-State.
Mercer holds four degrees from Kansas State University: a doctorate in curriculum and instruction with an emphasis in reading and English as a Second Language; a master's degree in curriculum and instruction with an emphasis in reading and language arts; a bachelor's in elementary education; and a bachelor's in family and child development.
Mercer can be contacted at 785-532-5525 or dmercer@k-state.edu.