Kent Glasscock
President, Kansas State University Institute for Commercialization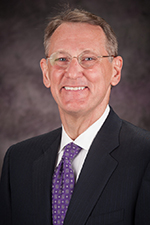 Kent Glasscock is the president of the Kansas State University Institute for Commercialization, or KSU-IC. The institute disseminates technological innovation throughout the world stemming from Kansas State University research via licensing, corporate partnerships and new company creation. During Glasscock's tenure, KSU-IC has generated more than $30 million in direct benefit back to the university.
Prior to joining KSU-IC in 2003, Glasscock spent 16 years in public office. He served as the mayor of Manhattan, Kan., from 1989-1990; as a member of the Kansas House of Representatives from 1991-2003; as Kansas House majority leader from 1991-2001; and as Speaker of the House of Representatives from 2001-2003. Additionally, Glasscock was selected to serve on the transition teams for Kansas Gov. Sam Brownback and former Kansas Gov. Bill Graves.
In 2012, Ingram's magazine named Glasscock one of its "50 Kansans You Should Know."
Glasscock is a member of the Higher Education Task Force for the Kansas City Area Development Council; the Board of Trustees for the Midwest Research Institute in Kansas City, Missouri; the Professional Advisory Council for Kansas State University's College of Business; and the Professional Advisory Board for the department of architecture & landscape design. He also is a member of the Kansas State University Olathe Board of Directors.
He is an emeritus member of the Professional Advisory Councils for the university's colleges of engineering and arts and sciences.
Glasscock also serves as chairman and CEO of his family retail lumber and construction businesses operating in Missouri, Iowa and Kansas.
Glasscock is a Kansas State University graduate, earning a bachelor's degree in English, 1976. He also grew up in Manhattan, Kan.
He can be contacted at 785-532-3900 and kentglas@k-state.edu.