November 18, 2019
K-State's International Education Week continues
Submitted by Communications and Marketing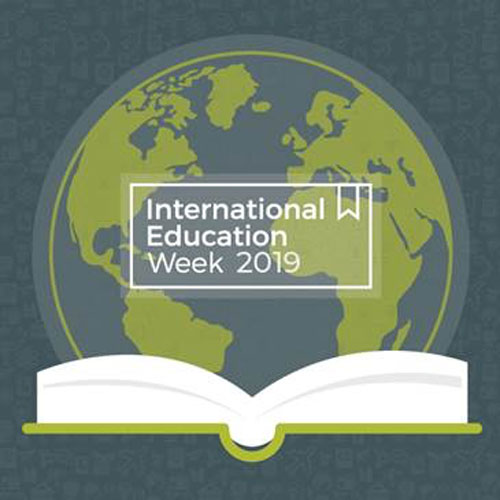 The Office of International Programs will host International Education Week through Nov. 22 to recognize, advance and elevate international awareness at K-State.
International Education Week is a joint initiative of the U.S. Department of State and the U.S. Department of Education to promote programs that prepare Americans for a global environment and attract future leaders from abroad to study, learn and exchange experiences. International Education Week at K-State presents opportunities to celebrate the benefits of international education and exchange worldwide.
"This week provides a great opportunity for our university community to learn, absorb and support the international initiatives that make our campus a rich and diverse global arena," said Grant Chapman, associate provost for international programs. "We hope that all will take advantage and participate."
International Education Week activities include:
Tuesday, Nov. 19
Live webcast, 9-10 a.m. in 304 Fairchild Hall conference room.
U.S. Institute of Peace and NAFSA special event: "The Role of Higher Education in Resolving Conflict and its Consequences."
Wednesday, Nov. 20
Rising your International Profile, noon to 1 p.m. in 305 K-State Student Union.
The event will feature Stacy Hutchinson, associate dean of engineering and professor of biological and agricultural engineering.
Fulbright Australia Scholar Panel, 3:30-4:30, Wayne Franklin Conference Room 201 in the Leadership Studies Building.
Joyce Wu and Kate Dolan share their research findings and reflections in a panel moderated by Carol Shanklin, dean of the Graduate School and professor of food, nutrition, dietetics and health.
Thursday, Nov. 21
Live webcast, 3-4:15 p.m., in the UMB Theater at the Beach Museum of Art.
2019 NAFSA Senator Paul Simon Award for Campus Internationalization Presidential Panel.
International Education Awards Ceremony, 4:30-6 p.m., UMB Theater, Beach Museum of Art.
Charles Taber, provost and executive vice president; Grant Chapman, Office of International Programs associate provost; and Marcellus Caldas, professor and Office of International Programs assistant provost of international faculty collaboration and educational programs, will recognize the 2019 International Education Week award winners. As part of the ceremony, an International Fair will feature tables where K-State departments and units will showcase their international programs and opportunities.
The College of Education also will present a variety of COE-themed International Education Week activities including a brown bag lunch each day from noon to 1 p.m. Nov. 18-22 in 118 Bluemont Hall. A different international graduate or undergraduate student will speak to the educational systems in their home countries of China, Paraguay, Ecuador, Brazil and Saudi Arabia. The brown bag sessions will be moderated by Trina Harlow and Yang Yang.
Join in the presentations and meet those providing a global cultural experience to enrich our minds.
For an overview of all International Education Week events, please see the university calendar.