November 18, 2019
Two K-Staters named recipients of Commerce Bank and W.T. Kemper Foundation Presidential Awards
Submitted by Michele Benevento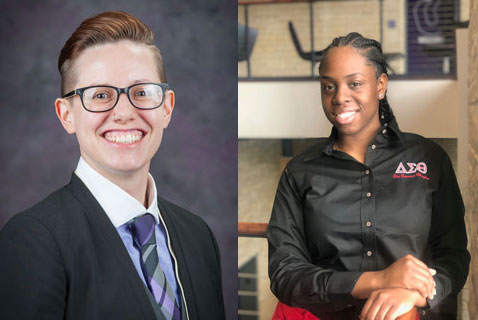 Two K-Staters have been named recipients of Commerce Bank and W.T. Kemper Foundation Presidential Awards for promoting diversity at Kansas State University.
Mariya Vaughan, the assistant director of K-State First, is the awardee for the Presidential Faculty/Staff Award for Distinguished Services to Historically Under-Represented Minority Students. The award was established in 1978 to recognize outstanding individual contributions to the development of quality education for students of color at Kansas State University.
During her career at the university, Vaughan has had a significant influence on K-State First students through intercultural learning and development. She not only integrates intercultural learning into her curriculum and course materials through K-State First and her CAT Community, but works on several campuswide diversity events such as the Wildcat Dialogues and KSUnite.
In 2018, Vaughan set out to provide a more intentional focus on intercultural development in the K-State First programs, starting with creating a diversity statement that closely aligns with the K-State 2025 goals and editing student learning outcomes in K-State First to have a more intercultural understanding. Vaughan has also been an integral member of the KSBN selection committee and Wildcat Warm-up. She serves on K-State's Trans* Task Force and the executive boards of the LGTBQ* Faculty and Staff Alliance and the Flint Hills Human Rights Project.
Vaughan has made outstanding strides in providing opportunities for intercultural learning for K-State students. According to her nomination letter, "Mariya's commitment to equity and inclusion is a part of who she is and is evident in her everyday work. Mariya embodies these ideals in her own classroom and challenges us as a program to more intentionally embed equity and inclusion to every aspect of what we do."
Del'Sha Roberts is the recipient of the Commerce Bank and W.T. Kemper Foundation Presidential Student Award for Distinguished Services in Enhancing Multiculturalism at Kansas State University. The award was established in spring 1997 to recognize outstanding individual contributions to diversity enhancement within the student sector.
Roberts is a senior from Kansas City majoring in biology with a concentration in pre-medicine. Roberts has served in many leadership roles at K-State, such as president of the Black Student Union in the 2018-2019 academic year, a member of the Multicultural Student Center Project Action Team, and a member of the Diversity Programming Committee for K-State's Student Governing Association. She also serves as head delegate for the Big XII Council on Black Student Government.
Some of Robert's contributions to K-State include serving as a panelist and facilitator for Wildcat Dialogues and as a speaker for K-State's inaugural KSUnite. While president of BSU, Roberts also revived BSU's "My Black is Beautiful" week to encourage black students to embrace and celebrate their heritage and encourage others to celebrate blackness as well. In addition, Roberts established the Black Student Union's Academic Initiative, Project EAT, Enhancing Academic Tenacity.
According to one of Robert's recommendation letters, "she has represented herself as a person that cares deeply about her community. She serves humbly and tirelessly on committees and in organizations that help advance diversity and inclusion at K-State and help underrepresented students."
Please join us in recognizing Vaughan and Roberts at a public reception from 3:30-5 p.m. Tuesday, Jan. 28, 2020, at the K-State Alumni Center Banquet Room. This year's program will mark the 41st year of the awards.