November 18, 2019
APDesign Ekdahl Lecture presented by Chelina Odbert Nov. 20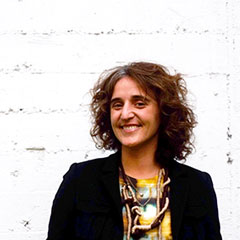 Chelina Odbert, co-founder and executive director of Kounkuey Design Initiative, will present "Just Design: Building more equitable futures through landscape architecture and urban planning" as part of the Kansas State University  College of Architecture, Planning & Design  Ekdahl Lecture Series at 4:30 p.m. Wednesday, Nov. 20, in the Regnier Forum of Regnier Hall. The event is free and open to the public.
Odbert believes in the potential of low-cost, high-impact design interventions to improve the physical, economic, and social quality of life in low-income communities. She has extensive field experience through her work in Africa, Latin America and the U.S. Having shaped Kounkuey Design Initiative into an internationally recognized  and award-winning design, planning and community development firm, she lectures and speaks around the world and writes about the initiative's community-engaged approach to planning and design.
Kounkuey Design Initiative is a community development and design nonprofit. They partner with under-resourced communities to advance equity and activate the unrealized potential in their neighborhoods and cities.
Odbert's experience and expertise cover a range of topics from leadership, participatory planning and social entrepreneurship to urban development, environmental remediation and social impact design. She has lectured and written about the initiative's community-engaged approach to planning in the U.S. and abroad, and has been recognized by the Van Alen Institute, American Express and the Aspen Institute.
Odbert holds a Bachelor of Arts from Claremont McKenna College, where she graduated with magna cum laude and Phi Beta Kappa honors. She received her Master of Urban Planning from Harvard University.
View a full listing of the 2019-2020 Ekdahl Lectures.
The Oscar S. Ekdahl Distinguished Lecture Series in Architecture and Design brings the finest professionals in the design and planning disciplines to APDesign and the K-State community. These individuals are selected to avail faculty, staff, students and regional professionals to the potency of design and planning in addressing the issues we face as a global society. The series honors Oscar Ekdahl who received his Bachelor of Architecture from Kansas State University in 1933 and was a founding partner in Ekdahl, Davis, Depew, Persson Architects PA in Topeka.