November 13, 2019
Socorro Herrera named 2019 International Educator of the Year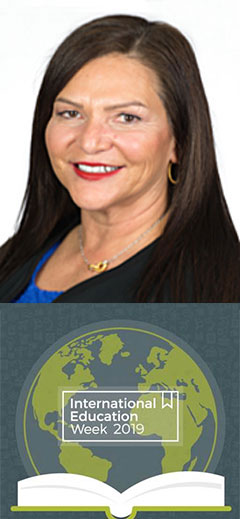 Socorro Herrera, professor of curriculum and instruction, has been named the 2019 International Educator of the Year.
K-State created the International Educator of the Year Award in 2003 established by the provost's office and implemented by the Office of International Programs, known as OIP.
This award recognizes an individual who has contributed to advancing international education at the university.
"I am very honored to receive this award," Herrera said. "As the 2019 International Educator of the Year recipient, I am but one of a cadre of professionals, at both the College of Education and OIP, who increasingly coordinate and collaborate to bring students from diverse races, ethnicities, and languages to scholarship at Kansas State University. Such diversity of experiences, perspectives, and ideas will be pivotal in the development of creative and lasting solutions to the complex, global challenges of living and working in a postmillennial, postmodern world. International students arrive as strangers and leave as part of the K-State family full of memories and having forged relationships for a lifetime."
According to one of her nominators, Herrera initiated regular study abroad and exchange programs in the College of Education. To date, 263 students have participated and 236 of them funded by the Taylor Scholarship secured by Herrera and Dean Debbie Mercer.
"Hundreds of Ecuadorians studied at K-State through the Go Teacher Program," said Marcellus Caldas, assistant provost of international collaboration and educational programs in the Office of International Programs. "Dr. Herrera provided the inspiration and leadership for international projects totaling over $12 million since 2014."
From her nomination letter, "There is no doubt that Dr. Herrera is making a huge impact on countless students across many countries in undergraduate and graduate programs focused on enhancing learning for culturally and linguistically diverse students at K-State. Her enthusiasm and passion lay the foundation for innovative programs that truly changes lives."
The Office of International Programs will recognize the International Education Week award category winners from 4:30-6 p.m. Thursday, Nov. 21, in the UMB Theater of the Marianna Kistler Beach Museum. The event honors those faculty, staff or administrators of the K-State community for their major contributions and sustained commitment to advancing international education at the K-State. Please join us.