GROW Summer Workshops
21st Virtual GROW Summer Workshop: June 1-12, 2020.
Our popular GROW Summer Workshop is back...and is being held virtually this year! Given concerns around COVID-19, campus limitations on in-person events, and the safety of our participants, our usual in-person camps won't be offered. However, we are excited to provide STEM-based learning for your middle school student remotely.
What will virtual camp look like?
COVID-19 has posed financial challenges for many families. Thanks to the support of our partners, we are pleased to provide scholarships to students who register. Scholarship applications are included as part of the registration form.
From June 1-5, KAWSE staff will offer a facilitated camp experience, complete with live check-ins, live demonstrations and interviews with K-State faculty, staff and students, and a few special evening activities too! The remainder of the time, June 6-12, participants will have access to camp materials to review at their own pace.
The workshop will use a combination of platforms, including Canvas and Zoom, to host sessions. Internet access is required to access Canvas; Zoom can be accessed using internet or by calling in with a phone.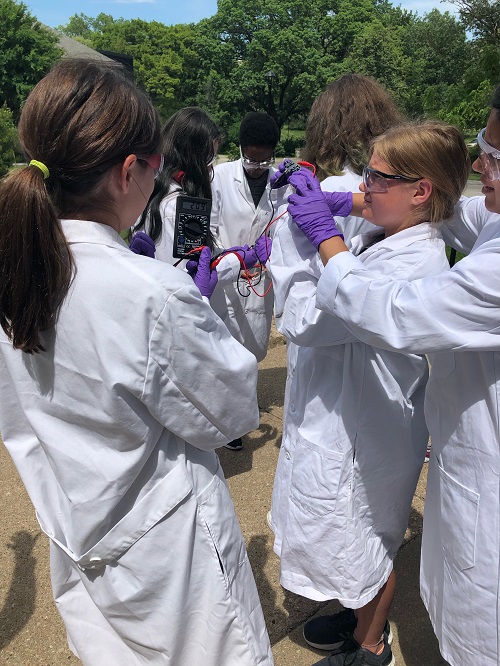 Registration is now closed. Thank you for your interest!
We have hit max capacity for our virtual summer camp! Wow! We are really excited to see our campers next week!
Registration is now open! Registration will close on May 22. Workshop capacity is 100 individuals, with slots available on a first come, first serve basis. Interested participants beyond the first 100 registrants will be placed on a waiting list.
Although scholarships are available, a completed registration form is still required to reserve your space in the workshop. Scholarship applications are included as a part of the registration form.
Frequently Asked Questions
About the Workshop
Typically, the GROW Workshop is a 3-day exploration event designed to foster girls' continued interest in pursuing majors or careers in STEM fields. The event is held on the K-State campus in Manhattan. The 2020 GROW Workshop will be held remotely, using Canvas and Zoom. This year's camp is limited to 100 students.
Who Should Attend?
The GROW Workshop is for students who will complete 5th, 6th, or 7th grade in May 2020. Students can come on their own or with friends from their school or community. Our EXCITE Workshop is intended for students who will complete 8th, 9th, 10th or 11th grade in May.
What Will We Do?
K-State faculty, staff and students will host a variety of activities. This includes hands-on activity demonstrations, Career Chats, lab tours and more! Some sessions will be hosted live, while some will be pre-recorded. KAWSE staff will also offer daily interactions, including morning and afternoon check-ins, and a few fun (optional) afternoon activities, like trivia night.
Students who complete the pre- and post-surveys, and participate in at least 2 live sessions, will receive a special certificate of completion after the camp has finished.
Is Internet Access Required?
Internet access is required to access the Canvas course. Canvas can be accessed using a computer, tablet or smartphone. Our live sessions will be hosted using Zoom. To join with video, you will need access to a computer, tablet or phone with internet access. Alternatively, you can dial into the Zoom session using your phone, and get access to audio.
Most communication will occur via email.
Who qualifies for a scholarship?
We recognize that these unprecedented times have caused financial burdens for many families. In addition to our usual needs-based scholarship applications, we have added an additional category for consideration. To be considered for a scholarship, students should meet one of the following criteria:
1) Have been impacted by the COVID-19 pandemic
2) Qualify for or are just over the threshold of qualifying for the free and reduced lunch program (We recognize that not all who qualify for the program actually participate in it. We are simply interested in whether a student qualifies)
3) Is experiencing an unforeseen financial burden (In the past, students have used this when caring for an ill family member, when their house recently burned down, etc)
We encourage all students registering to request to be considered for a scholarship. Those who do not request a scholarship will be required to pay a $12 registration fee.
Cancellation Policy
If you must cancel your registration, please do so as soon as possible. This will allow any waitlisted participants the change to participate.
Can boys/young men attend?
Yes. While the majority of our workshop participants are girls/young women, we welcome students of all genders.
More Frequently Asked Questions
Questions?
We are happy to answer any questions you may have via email (kawse@ksu.edu) or phone (785-532-6088). To stay up-to-date about future events, be sure to join our GROW listserv!