GROW Summer Workshops
Save the Date! The 2020 Summer Workshop will be June 3-5, 2020.
The GROW Summer Workshop is a 3-day program held on the K-State Manhattan campus. This workshop is designed to encourage and inspire middle school girls to pursue a future in science, technology, engineering, mathematics (STEM) and pre-health professions. Students will stay in the residence halls during the workshop and participate in hands-on activities led by K-State faculty and students.
Celebrating 20 years of GROW Workshops - 2019 Summer Workshop is a success!
Over 50 middle-school girls joined KAWSE of the 20th anniversary of GROW Summer Workshops June 5-7, 2019! The 3-day, 2-night visit not only provided a glimpse of various STEM careers, but also a chance to experience what life is like as a college student! The participants stayed in Marlatt Hall and ate in Kramer Dining Center. They also visited the campus recreation center and natatorium.
Additionally, over 30 K-State faculty, staff and students volunteered to host hands-on activities. Throughout the 3-days, students participated in wide-ranging activities, exploring topics in science, technology, engineering, mathematics, agricultural and pre-health fields.
Workshop activities included: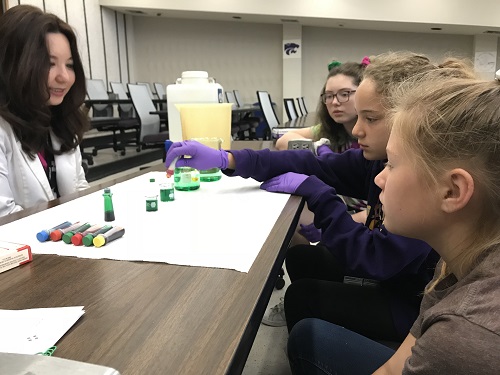 Beyond Gravity - The Art of Outer Space (Katherine Schlageck): Participants visited the Beach Museum of Art to celebrate the 50th anniversary of the moon landing, by touring the museum's exhibition and creating their own space-themed artwork.
Getting a charge out of microbes and mud (Matthew Kirk): Students created their own microbial fuel cells that harnessed the power of microorganisms!
Melanin: How nature uses biochemistry to make black and brown (Maureen Gorman): Through a series of experiments, students observed biochemical reactions that produce melanin in plants, animals and humans.
Coleslaw Culprit Mystery (Martha Nowak): Taking on the role of public health agent, students solved the great Coleslaw Culprit Mystery!
Animal Nutrition: What do we feed our animals and why? (Cassandra Jones): Did you know that animals have digestive tracts that are different than our own? These differences influence what they eat!
Fruit Flies are like us!: Using the fruit fly to find out how cells move during cancer (Jocelyn McDonald): New research suggests that cancer cells in fruit flies mimic certain cancer cells found in humans. This experiment led students to further investigate.


Questions?
We are happy to answer any questions you may have via email (kawse@ksu.edu) or phone (785-532-6088). To stay up-to-date about future events, be sure to join our GROW listserv!