Upcoming Events
Fall 2019 Saturday Workshop: "It's Elemental, Dr. Watson!"
Saturday, October 12, 2019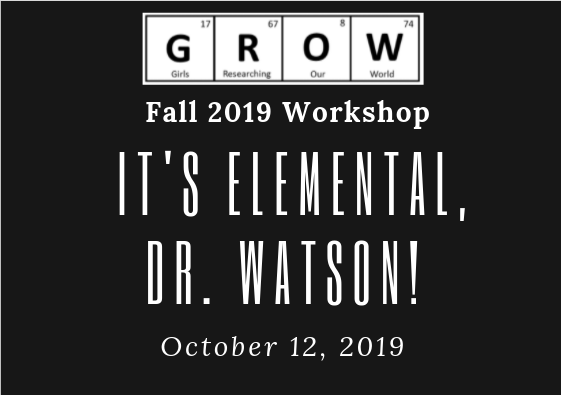 150 years, the periodic system was discovered, changing our understanding of the world and how it works. In honor of the International Year of the Periodic System, the fall 2019 GROW Saturday Workshop will investigate the many (and sometimes mysterious) ways in which the chemical elements and periodic system influence science, technology, engineering and mathematics to this day!
Check-In
Check-in will begin at 9:00am in on the K-State campus. Please arrive no later than 9:20 am! This will help all of us get to our activities on time. During the opening session, you will meet your mentors and receive all of your information for the day. If you are running late, please call us at 785-532-6088.
What to Wear
Make sure you dress for the weather and are prepared to walk. Please wear long pants and closed-toed shoes. This is a requirement to enter certain labs during the day. If you are not dressed appropriately, you will not be able to participate in some activities! You will be walking to and from activities outside with your mentor throughout the day. Be comfortable so you can have fun!
Lunch
Lunch will be pizza (3 varieties: cheese, beef, pepperoni), fruit (mandarin oranges), cookies (chocolate chip), and water. If you need special accommodations, please contact the KAWSE office at kawse@ksu.edu, by no later than October 4, 2019.
Directions to Manhattan
Detailed directions are available on the K-State website: www.k-state.edu/directions/
Durland/Rathbone/Fiedler Hall Map Address: 1701 Platt St, Manhattan, KS 66506
Parking
Parking is free on Saturdays across campus, except at the Residence Halls and Reserved spots. Please park in the Engineering parking lot, located on the north side of Durland/Rathbone/Fiedler Hall.
For more detailed directions and campus map go the K-State website
http://www.k-state.edu/directions/
General Information
Need More Information?
Be sure to sign up for our GROW Listserv to receive email notifications about these events. We are happy to answer any questions you may have via email at kawse@ksu.edu or by phone at (785) 532-6088.
K-State Faculty, Staff and Student: Interested in hosting a hands-on activity at this year's event? Our ADVANCE webpage has information on activity development and submission.