Overview - Updated UI
SWITCH TO THE UPDATED INTERFACE
If you signed in to the legacy interface switch to the updated interface.
Click your username (top right), select 'Updated UI'.

UPDATED INTERFACE OVERVIEW
Choose Admit or Prospect
Signing in takes you to Admit, for managing submitted applications. Prospect will allow you to see profile information for in-progress and submitted applications.
Use the Menu button to switch between Admit and Prospect.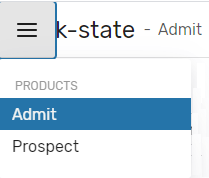 Note: If you are an evaluator, use Worklist to see a list of applications that have been assigned to you for review. See additional documentation for evaluating applications.
Customize Record Display
Use the Display Settings options to change the record view settings:
Table View: Display a list of records.
Summary View: Display more information for each record.
Adjust Table Columns: Decide which columns are displayed and the order of the columns.
Auto-size Columns: Size columns automatically.
Fit Columns to page: Reduce column sizes to fit the columns in the available view.
Table Row Size: Choose Normal or Compact.
Navigate Pool Folders
Select pool folders using the left navigation view.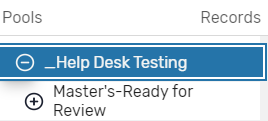 Note: select the …Ready for Review pool if you are evaluating an application or completing the program recommendation.
Search
To filter the list of records, enter your search text in the Search box. Choose a filtering option that appears.



To cancel a search, click X next to the Search Results item.

Review Application Records
Select

(choose View or the view drop-down option) to open a record or record documents).
Using the Pages tab, select a page to review.

With the record open, you may view and edit the application. If you are completing the program recommendation, see this guide.
Edit Records
Selectto enable editing mode (if you have permission to edit records). To finish editing, click Save & Exit to return to non-editing mode.
View/Download PDF documents
Select (documents tab) to view the full application PDF or specific documents. Choose the Page(s) you wish displayed. Select to save a copy of the PDF file.
Close and Return
To close the record and return to the list of applications: click the pool folder link shown above the applicant's name.
Return to Legacy Interface
If you need to return to the legacy interface, click your username initials (top right). Select Return to Legacy UI.