Evaluate an Application - Updated UI
SWITCH TO THE UPDATED INTERFACE

If you signed in to the legacy interface switch to the updated interface.
Click your username (top right), select 'Updated UI'.

WORKLIST OVERVIEW
Use the following features to change how your assigned applications are displayed.
Search: Enter an applicant's name to search for the record.

Status Filter: Limit the list of applications to a selected filter (toggle).

Pool Expansion: If you review applications in multiple pools, click the Expand Section icon to hide/reveal applications awaiting evaluation.

Customize Record Display
Use the Display Settings options to change the record view settings:
Table View: Display a list of records.
Summary View: Display more information for each record.
Adjust Table Columns: Decide which columns are displayed and the order of the columns.
Auto-size Columns: Size columns automatically.
Fit Columns to page: Reduce column sizes to fit the columns in the available view.
Table Row Size: Choose Normal or Compact.
EVALUATE AN APPLICATION USING WORKLIST
1 - Choose an Application
Choose an application and select Evaluate or click the drop-down arrow icon.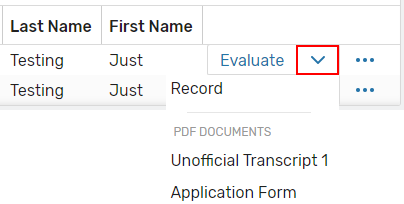 TIPS:
Evaluate opens the application documents.
The down-arrow options are:
Record - the application record is opened. Choose a page to display.
PDF Documents - choose a document to open. The document will be displayed.
Note: Only assigned applications are shown in the Worklist. If you do not see an application you expected to see, contact your office administrator.
After evaluating the application material, you may return to the Worklist or change the view (see below) to complete the evaluation.
2 - Choose View
Use the View option to switch between Split-Screen View or Evaluation View. (This option is displayed when an application record is open or you open a document for review).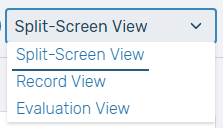 3 - Set Evaluation Recommendation
Select your evaluation recommendation.

4 - Complete Evaluation/Comments
Complete evaluation criteria (if shown) and comments.

4 - Submit
Select Save or Submit.

Save will save your evaluation progress and you may return later to finish the evaluation.
Submit will finish the evaluation - this completes the evaluation.
Note: after you select Submit no further changes can be made, your evaluation is considered complete.
5 - Return to Worklist
To return to the list of applications – click the link shown above the applicant name (in this example, 'Kansas State').