About BMB
Located in Chalmers and Burt Halls, the BMB Program offers B.A., B.S., M.S. and Ph.D. degrees. Departmental faculty have research programs supported by over $7 million in extramural support for studying various aspects of biochemistry in animals, plants, insects and microorganisms.
Browse this website to find information about our academics, faculty, seminars and more.
BMB Seminar
Michael L Denton - November 20
Optical Radiation Bioeffects Branch
Joint Base San Antonio, Fort Sam Houston
"Photobiomodulation: Mechanisms vs Applications" (pdf)
News Highlights
Biochemistry and Molecular Biophysics Graduate Student Earns Top Honors at Research and The State
Ashish Kumar, doctoral student in biochemistry, won top honors at Research and the State graduate student poster session for "Fluorescence Assays for Detection, Discrimination and Quantification of Siderophores" on October 31. He will receive a small scholarship and be one of 10 graduate students to represent K-State at the 17th annual Capitol Graduate Research Summit, February 26, 2020, at the State Capitol in Topeka. He will present his poster and discuss the implications his work has on issues in the state of Kansas with state legislators, members of the Kansas Board of Regents, and the public. Kumar's faculty advisor is Phillip Klebba, university distinguished professor of biochemistry and molecular biophysics. K-State News
Goldwater Scholar from Biochemistry and Molecular Biophysics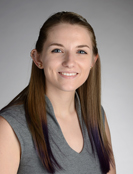 Erianna Basgall, junior in biochemistry, was selected as one of three K-State 2019 Barry Goldwater Scholars. Basgall is working with CRISPR gene editing and developing applications in the lab of Gregory Finnigan, assistant professor in BMB. The Goldwater scholarship is the premier undergraduate scholarship for students interested in research careers in engineering, mathematics or the natural sciences.
Photo courtesy of K-State News.
Matthew Brettmann, Member of the First Graduating Class in BMB Medical Biochemistry, Speaks About His K-State Education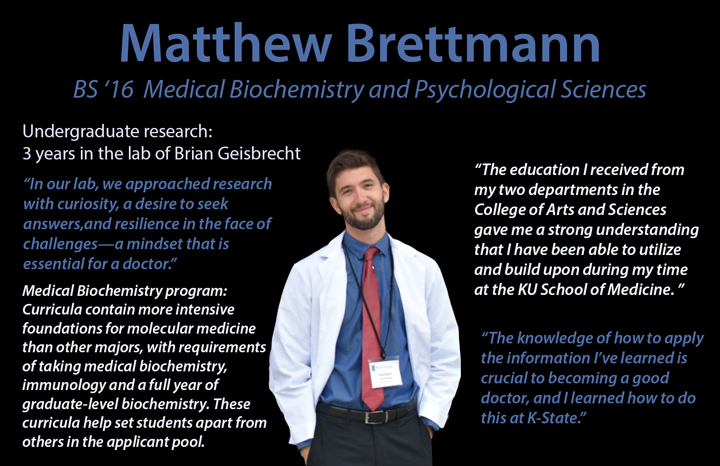 Read more from Matthew about his K-State education. Photo courtesy of Arts and Sciences.
Read the latest news in BMB. Summer 2019 Newsletter created by department faculty and staff. Adobe Acrobat Reader is required.

---
Faculty Research Videos

Dr. Gregory Finnigan

Dr. Michal Zolkiewski

Dr. Michael Kanost

Dr. Timothy Durrett

Dr. Brian Geisbrecht

Dr. Erika Geisbrecht

Dr. Phillip E. Klebba

Dr. John Tomich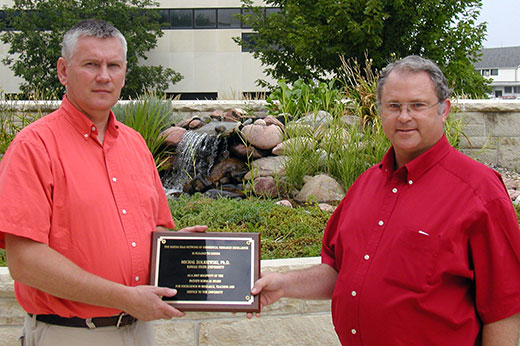 Chalmers Hall is home to the Biochemistry and Molecular Biophysics Main Office and Biomolecular Nuclear Magnetic Resonance (NMR) Facility, in addition to the majority of faculty offices, research laboratories and classrooms.