About BMB
Located in Chalmers and Burt Halls, the BMB Program offers B.A., B.S., M.S. and Ph.D. degrees. Departmental faculty have research programs supported by over $7 million in extramural support for studying various aspects of biochemistry in animals, plants, insects and microorganisms.
Browse this website to find information about our academics, faculty, seminars and more.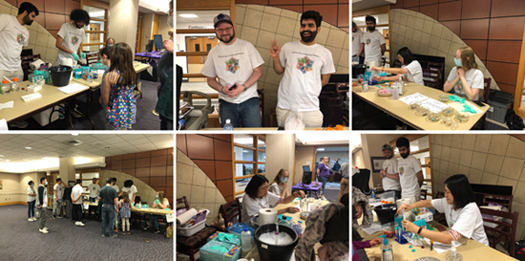 BMB represented well at K-State's Open House on April 9, 2022.
Select photo for a larger view.
BMB Seminar
October 12 - Kenneth Lee
Biotechnology Center
Shawnee Mission Schools
PhD Defenses
Yu Song successfully defended his doctoral disseratation entitled "Genome-wide Association Study of Lipidomes of Arabidopsis thaliana Accessions Identifies Genes Affecting Lipid Metabolism under Unstressed and Stressed Conditions" on July 20, 2022. Song completed his degree under the mentorship of Dr. Ruth Welti in the Division of Biology. Congratulations, Dr. Song!
Ye Zou successfully defended her doctoral dissertation entitled "The new insights into protein structures by computational methods" on April 26, 2022. Dr. Ho Leung Ng served as her faculty mentor. Congratulations Dr. Zou!
Yao Yan successfully defended her doctoral dissertation entitled "Development of CRISPR/Cas9-based gene drive biotechnology in S. cerevisiae" on March 31, 2022. Her faculty advisor was Dr. Gregory Finningan. Congratulations Dr. Yan!
Mian Huang successfully defended her doctoral dissertation entitled "Structure-feature relationship of nuclear receptors and fluorescent proteins" on March 30, 2022. She was menotored by Dr. Ho Leung Ng. Congratulations Dr. Huang!
Read the latest news in BMB. Fall 2020 Newsletter created by department faculty and staff. Adobe Acrobat Reader is required.
News Highlights
Brian Geisbrecht named Biochemistry & Molecular Biophysics' Newest University Distinguished Professor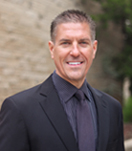 As one of the world's experts on the structure and biochemistry of proteins that function in the innate immune system, Dr. Brian Geisbrecht has received the lifetime honor of K-State's highest faculty title, university distinguished professor. He studies molecules produced by pathogenic bacteria that block activity of these innate immune components to understand their interactions and use that information as a basis for therapeutic discovery and development.
Since joining BMB in 2013, Geisbrecht has received NIH support of $5.8 million for his work. He has published numerous articles in prestigious journals including Journal of Immunology, Journal of Biological Chemistry and Proceedings of the National Academy of Sciences. Geisbrecht has served on national and international grant review panels and editorial boards of respected scientific journals. He has been invited to present at conferences and meetings across the U.S. and world. He has mentored four postdoctoral fellows, nine graduate students and 27 undergraduate researchers in his laboratory. Photo and story courtesy of K-State News.
BMB Undergrad Presents Research at the ASBMB Annual Meeting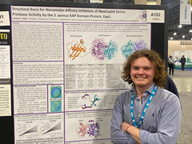 Carson Gido, junior in biochemistry, was selected to present his research poster "Structural Basis for Nanomolar-Affinity Inhibition of Neutrophil Serine Protease Activity by the S. aureus EAP Domain Protein, Eap1" at the American Society for Biochemistry and Molecular Biology Annual Meeting April 2-5 in Philadelphia. Gido works with Brian Geisbrecht studying a white blood cell enzyme that, when over-activated, can cause lung cancer and other lung diseases. Gido's research experience and travel to the meeting were supported by the K-State Johnson Cancer Research Center through an Undergraduate Cancer Research Award. Photo and story courtesy of K-State News.
2020/2021 Biochemistry and Molecular Biophysics Charlie Hedgcoth, Jr. and Phillip Nordin Graduate Memorial Awards for Excellence
Jacob Weber (grad, Gorman), Xin Xu (grad, B. Geisbrecht) and Yao Yan (grad, Finnigan) were awarded for Excellence in Graduate Research.
---
Faculty Research Videos

Dr. Michal Zolkiewski

Dr. Timothy Durrett

Dr. Michael Kanost

Dr. Phillip E. Klebba

Dr. Brian Geisbrecht

Dr. Erika Geisbrecht

Dr. John Tomich