About BMB
Located in Chalmers and Burt Halls, the BMB Program offers B.A., B.S., M.S. and Ph.D. degrees. Departmental faculty have research programs supported by over $3 million in annual extramural support for studying various aspects of biochemistry in animals, plants, insects and microorganisms. Founded in 1961, the Department of Biochemistry and Molecular Biophysics recently celebrated its 50th anniversary.
Browse this website to find information about our academics, faculty, seminars and more.
BMB Seminar
Kristin Michel - Wednsday, March 1
Division of Biology
Kansas State University
Read the latest news in BMB. Newsletter created by department faculty and staff. Adobe Acrobat Reader is required.
---
Faculty Research Videos

Dr. Gregory Finnigan

Dr. Michal Zolkiewski

Dr. Michael Kanost

Dr. Jianhan Chen

Dr. Timothy Durrett

Dr. Brian Geisbrecht

Dr. Erika Geisbrecht

Dr. Phillip E. Klebba

Dr. John Tomich
Dr. Anna Zolkiewska
5 Minutes in Dr. Klebba's Lab
Take Note
Randy Schekman, 2013 Nobel Laureate, spoke to K-State
May 11, 2015 - "How Cells Export Proteins"
Provost Lecture on Excellence in Scholarship
Watch the Replay.
Powerpoint slides (23mb file)
Hageman Distinguished Lectureship
in Agricultural Biochemistry
Watch Colloquium Replay.
Powerpoint slides (18mb file)
Kansas State University is #1 in the state
Most bang for your education bucks
Kansas State University featured in Princeton Review's 2015 Best Colleges national rankings
Kary Mullis, 1993 Nobel Laureate, spoke to K-State
October 16, 2013 - "The Unusual Origins of PCR"
K-State Collegian Reports
Provost Lecture on Excellence in Scholarship (watch lecture here)
Hageman Lecture in Agricultural Biochemistry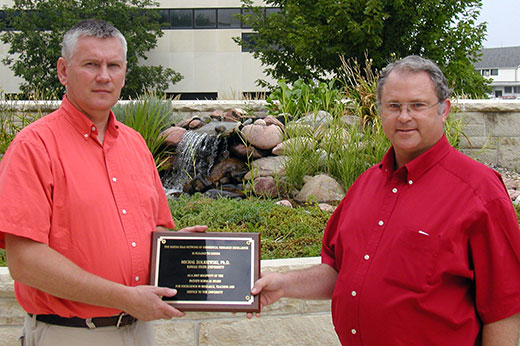 Chalmers Hall is home to the Biochemistry and Molecular Biophysics Main Office and Biomolecular Nuclear Magnetic Resonance (NMR) Facility, in addition to the majority of faculty offices, research laboratories and classrooms.