About BMB
Located in Chalmers and Burt Halls, the BMB Program offers B.A., B.S., M.S. and Ph.D. degrees. Departmental faculty have research programs supported by over $7 million in extramural support for studying various aspects of biochemistry in animals, plants, insects and microorganisms.
Browse this website to find information about our academics, faculty, seminars and more.
Biochemistry and Molecular Biophysics is conducting classes in person, hybrid, and online as conditions permit. Masks and social distancing are required. Thorough cleaning procedures are in place. Employees are working from home when possible. For more details www.k-state.edu/covid-19.
Read the latest news in BMB. Fall 2020 Newsletter created by department faculty and staff. Adobe Acrobat Reader is required.
PhD Defense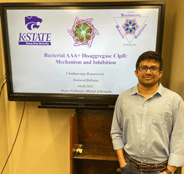 On April 6, 2021, Chathurange Bharathee Ranaweera successfully defended his doctoral dissertation entitled "Bacterial AAA+ Disaggregase ClpB: Mechanism and inhibition". Chathu Ranaweera works in Michal Zolkiewski's laboratory. Part of Chathu's research has been performed in the laboratory of Dr. Roman Ganta, Diagnostic Medicine/ Pathobiology. Chathu's results will help develop novel antimicrobial therapies targeting a molecular chaperone ClpB.
MS Defense

Hawa Dembele successfully defended her master's dissertation entitled "NMR and Molecular Dynamics Structural Investigations of Manduca sexta Stress Response Peptides and Anopheles gambiae Ecdysis Triggering Hormone" on April 9, 2021. She will be joining Harvard Medical School to begin her Ph.D. as a Herchel Smith Fellow during Fall 2021. Hawa's major professor is Dr. Om Prakash, Department of Biochemistry and Molecular Biophysics. Congratulations, Hawa Dembele!
News Highlights
Biochemistry and Molecular Biophysics Senior Awarded Fulbright Travel Grant

Cole Wilson, senior in biochemistry, is granted a Fulbright award for travel abroad in the next academic year. He will travel to Germany to conduct bioengineering and neuroscience research. Fulbright grant recipients receive round-trip transportation, tuition when applicable and a monthly living stipend for one academic year abroad. In 2019, Wilson was awarded a Deutscher Akademischer Austausch Dienst, or German Academic Exchange Service, internship to Potsdam, Germany. Wilson works with Timothy Durrett, associate professor in biochemistry and molecular biophysics, researching why different plant enzymes produce different oil products. Photo and story courtesy of K-State News.
Jessica Changstrom Wins Stamey Award for Advising

The College of Arts and Sciences recognizes Jessica Changestrom with the 2020 William L. Stamey Award for Advising. Changstrom is the primary advisor for biochemistry and molecular biophysics. Her nominator says this about her, "Jessy's job as the chief undergraduate advisor in three highly dissimilar departments should be considered unique, unconventional and quite challenging. It is Jessy's enthusiasm, dedication, and hard work, but also her warm and empathic personality, which made her a truly outstanding advisor for an incredibly diverse group of students." Story courtesy of K-State Today.
Phillip E. Klebba Selected as a 2020 AAAS Fellow

The world's largest scientific society, American Association for the Advancement of Science (AAAS) has chosen Phillip E. Klebba as one of the 489 fellows this year. The fellowship program recognizes individuals whose efforts toward advancing science applications are deemed scientifically or socially distinguished. Klebba distinguished himself with contributions to the understanding of the membrane transport mechanisms of bacteria relevant to their practical applications in human and animal health. Photo and story courtesy of K-State News.
---
Faculty Research Videos

Dr. Gregory Finnigan

Dr. Michal Zolkiewski

Dr. Michael Kanost

Dr. Timothy Durrett

Dr. Brian Geisbrecht

Dr. Erika Geisbrecht

Dr. Phillip E. Klebba

Dr. John Tomich