About BMB
Located in Chalmers and Burt Halls, the BMB Program offers B.A., B.S., M.S. and Ph.D. degrees. Departmental faculty have research programs supported by over $7 million in extramural support for studying various aspects of biochemistry in animals, plants, insects and microorganisms.
Browse this website to find information about our academics, faculty, seminars and more.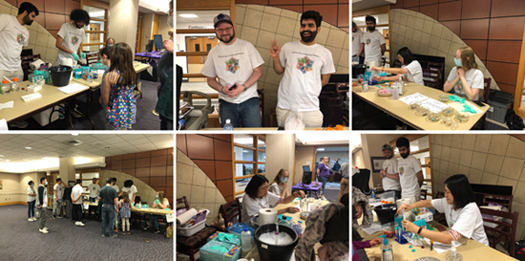 BMB represented well at K-State's Open House on April 9, 2022.
Select photo for a larger view.
PhD Defenses

Congratulations to Xin Xu who successfully defended her doctoral dissertation entitled "Structural and Functional Analysis of Complement Proteins" on Friday, November 19th, 2021, under the supervision of Dr. Brian Geisbrecht. Xin will be joining Bristol-Myers Squibb in Redwood City, CA as a staff scientist in January 2022. Congratulations Dr. Xu!

Jacob Weber successfully defended his doctoral dissertation entitled "Biochemical properties and physiological functions of extracellular iron-binding proteins" on August 27, 2021. Jacob was part of Dr. Maureen Gorman's research team. His work greatly increased our knowledge of the structure and function of insect transferrin, and his findings will be the basis of future research to understand iron homeostasis in insects. Congratulations, Jacob!

Ashish Kumar successfully defended his doctoral disseration entitled "Fluorescence Measurement of Metal Uptake by Pathogenic Bacteria" on August 9, 2021. Ashish works in the lab of Dr. Phillip Klebba. Congratualations, Dr. Kumar!
Read the latest news in BMB. Fall 2020 Newsletter created by department faculty and staff. Adobe Acrobat Reader is required.
News Highlights
BMB Undergrad Presents Research at the ASBMB Annual Meeting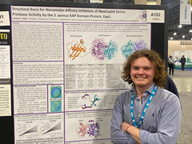 Carson Gido, junior in biochemistry, was selected to present his research poster "Structural Basis for Nanomolar-Affinity Inhibition of Neutrophil Serine Protease Activity by the S. aureus EAP Domain Protein, Eap1" at the American Society for Biochemistry and Molecular Biology Annual Meeting April 2-5 in Philadelphia. Gido works with Brian Geisbrecht studying a white blood cell enzyme that, when over-activated, can cause lung cancer and other lung diseases. Gido's research experience and travel to the meeting were supported by the K-State Johnson Cancer Research Center through an Undergraduate Cancer Research Award. Photo and story courtesy of K-State News.
2020/2021 Biochemistry and Molecular Biophysics Charlie Hedgcoth, Jr. and Phillip Nordin Graduate Memorial Awards for Excellence
Jacob Weber (grad, Gorman), Xin Xu (grad, B. Geisbrecht) and Yao Yan (grad, Finnigan) were awarded for Excellence in Graduate Research.
David Manning presented with a celebratory pin in recognition of his 40 years of service for the State of Kansas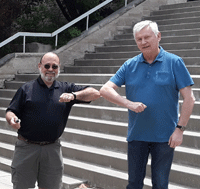 Hired into a Research Assistant position for the Biochemistry Department at Kansas State University in Sept. 1979, Dave's initial work involved the collection of data from ultracentrifugation of self-associating molecules. These analytical studies used computer simulations, which required connection to an IBM mainframe via phone modem and at times punch cards. As the first monochrome Zenith computers started their appearance in the department, there was a notable pivot in focus for his duties. Dave's role continued to evolve into a support person for multiple professors, specialized equipment, various operating systems, network connectivity, and eventually for the main office itself. Stretching the lifetime of our computers and other scientific equipment, has helped free up funds for use in research. Participation in the inventory and accounting duties, and assisting in safety concerns have also played a part in recent years. There have been seven department heads during the years of Dave Manning's employment and he has found himself located within five different buildings on campus. Awarding his pin is Dr. Michal Zolkiewski, head of Biochemistry and Molecular Biophysics.
Biochemistry and Molecular Biophysics Senior Awarded Fulbright Travel Grant

Cole Wilson, senior in biochemistry, is granted a Fulbright award for travel abroad in the next academic year. He will travel to Germany to conduct bioengineering and neuroscience research. Fulbright grant recipients receive round-trip transportation, tuition when applicable and a monthly living stipend for one academic year abroad. In 2019, Wilson was awarded a Deutscher Akademischer Austausch Dienst, or German Academic Exchange Service, internship to Potsdam, Germany. Wilson works with Timothy Durrett, associate professor in biochemistry and molecular biophysics, researching why different plant enzymes produce different oil products. Photo and story courtesy of K-State News.
---
Faculty Research Videos

Dr. Michal Zolkiewski

Dr. Timothy Durrett

Dr. Michael Kanost

Dr. Phillip E. Klebba

Dr. Brian Geisbrecht

Dr. Erika Geisbrecht

Dr. John Tomich