About BMB
Located in Chalmers and Burt Halls, the BMB Program offers B.A., B.S., M.S. and Ph.D. degrees. Departmental faculty have research programs supported by over $7 million in extramural support for studying various aspects of biochemistry in animals, plants, insects and microorganisms.
Browse this website to find information about our academics, faculty, seminars and more.
Rita Miller - May 1
Biochemistry and Molecular Biology
Oklahoma State University
""Perfect Crystals" of MnSOD for neutron crystallography: Where are the protons?"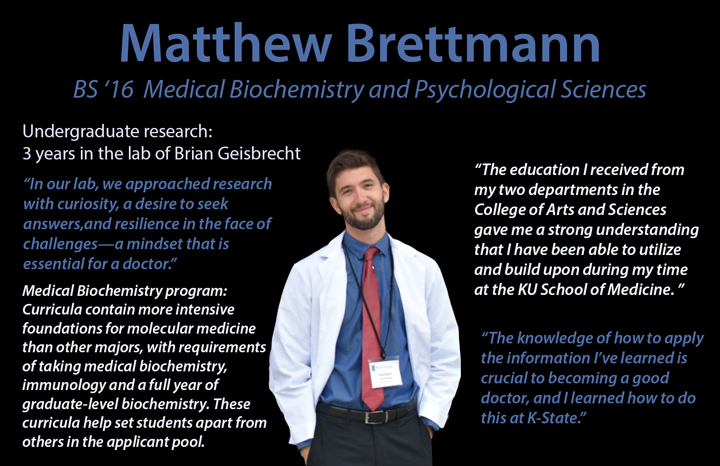 Read more from Matthew about his K-State education. Photo courtesy of Arts and Sciences.
Read the latest news in BMB. Newsletter created by department faculty and staff. Adobe Acrobat Reader is required.

---
Faculty Research Videos

Dr. Gregory Finnigan

Dr. Michal Zolkiewski

Dr. Michael Kanost

Dr. Timothy Durrett

Dr. Brian Geisbrecht

Dr. Erika Geisbrecht

Dr. Phillip E. Klebba

5 Minutes in Dr. Klebba's Lab
Dr. John Tomich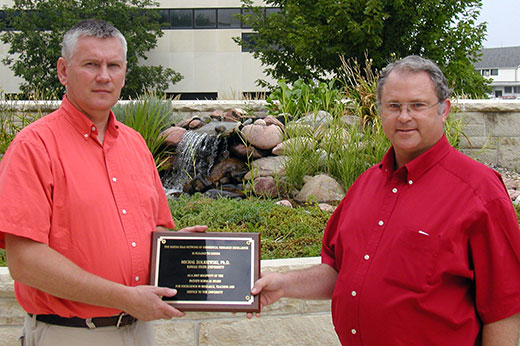 Chalmers Hall is home to the Biochemistry and Molecular Biophysics Main Office and Biomolecular Nuclear Magnetic Resonance (NMR) Facility, in addition to the majority of faculty offices, research laboratories and classrooms.