Need it fast – Digital reprodution
Digital printing describes all the black-ink and color copies normally made from digital files and camera-ready, customer-provided originals at University Printing high-speed digital printing center, at the K-State Student Union. Our high speed color and black and white digital copiers are capable of scanning and printing documents faster than normal office photocopiers. University Printing uses state-of-the-art technology to produce supurb quality copies at very competitive prices and quick turn-around times. Digital printing is ideal for short run brochures, flyers, books, covers, manuals, newsletters and ANY printed material where quality and speed are of the essence. All of our copiers are capable of printing from your digital files, thus removing a generation and the resulting image degradation. Several options are available through automated features of the copy equipment; reduction/enlargement, collating, stapling of up to 50 sheets (corner staple, landscape staple, double landscape staple), and two-sided copying. In addition to this, the digital printing center can also
provide you with the following sevices:
Finishing Operations
Besides high-volume duplicating, our digital printing center offers finishing operations. Spiral, wire, comb and Unibinding are available. Laminating, collating, cutting, folding, hole punching, padding (regular and carbonless), saddle stitching (magazine style booklet), and stapling are
available too.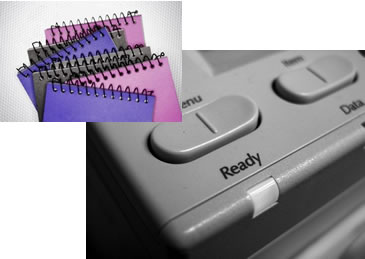 Hole Punching
We can "drill" a document, e.g., for later insertion into a binder. We can punch up to five holes in one pass; 1/4" is a standard size, though we also have other sizes.
Folding
We have machines capable of producing letter folds, half folds, and "Z" (or accordion) folds. If your piece is going to mail keep these tips in mind when developing your piece.
Cutting
The number of sides cut (and hence the price) depends on the size of the finished document and the thickness of the paper. Cutting can be provided for cards, forms, pads, tickets, etc., just ask for an estimate.
Tab Dividers
We stock white tab dividers. We have 3, 4, 5,and 6 cut in stock but are able to order others if needed. You can have them three hole drilled or undrilled. Just provide the information that you want to have put on the tab and we will set them for you.
Scanning
We can convert you paper documents to a digital graphic or text file. This is very convenient if your
office is not equipped with a scanner or the proper software.
Variable Data Printing
We now offer variable data printing (VDP). VDP (or personalized printing) produces a document that is customized for each recipient. You can use variable data printing with many different types of printed pieces, such as direct mail or mail-merge letters, newsletters, promotions, invitations, and flyers. Please call us to see how you can benefit from this great service.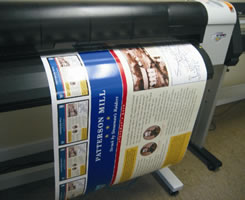 Large Format Color Printing
Running an HP 5500, KSPS can output phenomenal posters and banners. We have a high quality gloss or matte finish paper, and also a quality vinyl for custom banners for special events. You can also have grommets added for easy hanging. We can print posters up to 59" wide and any length, please call about the vinyl. In most cases, 24-hour turnaround is available. Your posters can also be mounted on foamboard or laminated for professional look.
wide format/poster order form.pdf
Large Format Scanning
We are able to scan your large format originals to digital files up to 42" wide into digital files. They can be scanned in b&w or color. After they have been scanned you can have them output on one of two of our large format printers. We have the ability to reduce or enlarge your scan also.
One stop print and shop for class course packs
We have longstanding experience with the preparation and fulfillment of academic course packet materials. Not only can we produce your course packet or laboratory manuals, but using our electronic archiving system we can keep these on file for on demand printing, or for future revisions and distribution right at the counter. We can also handle delivery to the University bookstore and copyright clearance issues. For assistance, with course packet production and workflow, contact our course pack specialist to arrange a meeting. They can be reached by phone at 532-6596.