House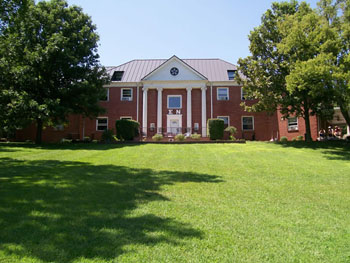 The Beta Kappa Chapter of Sigma Nu was founded at Southwestern College at Winfield, Kansas, in 1892, and became inactive in 1897. This chapter was reactivated at Kansas State Agricultural College on May 23, 1913. The petitioning group was the Iota chapter of Kappa Delta Pi, a national secondary fraternity founded in 1885 at Peeksville Military Academy, Peeksville, New York. The fraternity was made up of seven chapters.
The Iota Chapter was established at Kansas State on October 20, 1901, and initiated a total of 120 members between 1901 and 1913. The charter was obtained through the efforts of Edwin H. Brown and Joseph Kirmeyer, students in the college who came to Kansas from the Epsilon chapter of Kappa Delta Pi, Orchard Lake, Michigan. The founding of the chapter marked the beginning of our present fraternity life. Prior to this time, no organization of its kind had existed at Kansas State Agricultural College.
Kappa Delta Pi, and the petitioning group, Beta Kappa of Sigma Nu lived in the rented quarters from 1901 until 1915 when a house was purchased at 1031 Leavenworth. This house burned in 1933, and the chapter spent three years in rented quarters at 1221 Thurston. In 1937 the Chapter built a home of colonial design at 513 Sunset. The chapter moved into their new fire-reinforced concrete, brick exterior home in the fall of 1938. The location of this Fraternity home commands one of the finest views of any organized house at K-State. The 513 Sunset home was a far cry from the first headquarters of the petitioning group (KDP) which had their headquarters in a rented room over the feed story located at 115 North 3rd Street.