Department News
Peter Piland and presenters from the Mid-Atlantic Undergraduate Philosophy Conference held at John's Hopkins University.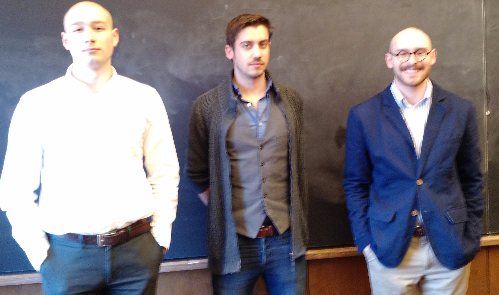 Joshua de Bonilla will be heading to Texas Tech this fall to complete a Master's in Philosophy, with a focus on Aesthetics. Well done Bonilla! We wish you the best of luck on those west Texas plains.
Congratulations to Clayton Buckner on his election to Phi Beta Kappa. Well done Clayton!
Philosophy Professor Jon Mahoney will deliver a lecture on "Democracy and Religious Freedom" to Nazarbaev University, Astana, Kazakhstan, on April 17th. In his talk, Professor Mahoney will be examining some of the more controversial state religion policies in Central Asia.
Joseph Savage, (3L at University of New Hampshire School of Law) "Law, Language, Lies, and Logic" Thursday, April 2, Dickens 203 @ 3:30pm; 3:30pm – 5pm: Seminar and Q&A 5:00pm – 6pm: Law School Q&A (incl. Pizza) Abstract: Over the last century, problems of meaning in language and communication came into the spotlight for Western philosophers, resulting in an abundance of ideas and models of language, meaning, and communication. These abstract, philosophical assertions about the relationship between language and logic take on a new layer of relevance and importance when millions of dollars are on the line—as is often the case in allegations of false advertising. The questions of understanding meaning are doubly important in making a legal evaluation of an advertisement, as both the law and the advertisement must be evaluated.
I argue that a more stable and predictable legal regime demands a deeper and more thorough consideration of the use of language in advertising. After considering different models of language and communication, as well as current advertising laws and approaches to false advertising, I look at several recent examples of false advertising and the arguments surrounding the advertising decisions in question. I then consider possible answers to the call to improve the way we analyze claims of false advertising.
Professor Rosa Terlazzo to present at the Pacific Division APA in Vancouver. Her paper is "Respect for Autonomy or Promotion of Autonomy: Is the Question Which we Should Privilege, or When?" Abstract
Professor James Hamilton will present a paper to the Pacific Division meetings of the American Society for Aesthetics, April 8-10. His talk is entitled "Arts and Ents", and in it explores three philosophical themes that arise in the films Alien (1979), Alien: Resurrection (1997), The Matrix (1999), and Do The Right Thing (1989). Abstract
Congratulations to Peter Piland on the acceptance of his paper, "Subjective Desire Satisfactionism and the Objections from Remote Desires". Peter will present his paper at the Mid-Atlantic Undergraduate Philosophy Conference, to be held at Johns Hopkins University on April 4. Well done, Peter!
Congratulations to Huxley Gay for her paper "Towards an Inclusive Account of Gender", to be presented at the 2015 Gender and Sexuality Conference at Wichita State University on April 3. A full abstract can be found here.
Congratulations to Dillon Rockrohr for wining acceptance to Pacific State University's Undergraduate Philosophy Conference. Dillon's paper is entitled "Dismantling the Race Label". In it he synthesizes work by Alcoff, Appiah and Haslanger on race to argue that racial identifications are inherently misrepresentative. For those interested, the abstract is here. Dillon will present his work during the conference (April 17-18), held at the Pacific University campus in Forest Grove Oregon.
The Department of Philosophy Newsletter
Who we are
Our department has strengths in philosophy of science, social and political philosophy, philosophy of language, decision theory, ethics, aesthetics, and philosophy of mathematics. We are an undergraduate-focused department that is also very active in research, giving our students the opportunity to participate in philosophical research while still undergraduates.
We offer a variety of options within the major program to provide flexibility in organizing a course of studies with philosophy at its center. We also offer a minor. Our program in philosophy gives students an understanding of traditional philosophical subjects such as the nature and justification of moral values, religious and scientific explanations of the world, the rationality of social institutions, and the nature of reasoning and argument. It also helps students develop critical habits of thinking and skill in understanding complex issues. Consequently, philosophy is an appropriate subject around which to organize a general education for any purpose. Our majors go to law school, medical school, graduate programs in philosophy and related areas, become ministers, and open their own businesses, and all of them credit our program with preparing them for successful careers.
LSAT, GMAT and GRE scores for philosophy majors rank in the top three nationally virtually every year. Also, philosophy majors have among the highest acceptance rates at law schools and medical schools each year. For instance, K-State philosophy majors over the last twenty years have had an acceptance rate at law schools of over 96%.