September 5, 2013
International agronomy lecture to discuss 'New Research Partnerships for Global Food Security' Sept. 11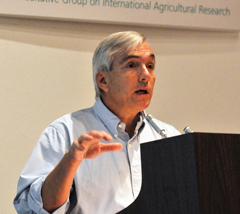 A new lectureship series in Kansas State University's department of agronomy kicks off on Wednesday, Sept. 11, with a special lecture by a renowned international leader in global food security issues.
Ruben G. Echeverria, director general of the International Center for Tropical Agriculture, will be the inaugural speaker for the Chuck and Sue Rice International Agronomy Lecture. His talk "New Research Partnerships for Global Food Security" starts at 4 p.m. in 1014 Throckmorton Hall, with a reception at 3:30 p.m.
The Chuck and Sue Rice International Agronomy Lecture was established for attracting scholars to interact with students and faculty on the international aspects of agronomy, agriculture and the environment. The lecture honors the ongoing career of Charles W. Rice and his years of service to Kansas State University and the global agricultural community.