September 5, 2013
Learn about your health, start the new school year off right in a relaxing study hall environment
Submitted by Sara Rosenkranz, PhD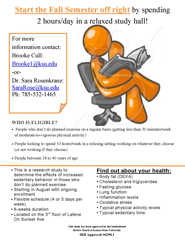 Start the new school year off right by spending two hours per day in a relaxed study hall environment.
We are looking for participants for a research study to determine the effects of sedentary behavior on healthy college aged adults. You will be able to find out about your health: body fat percentage, cholesterol and triglycerides, fasting glucose, lung function, inflammation levels, oxidative stress, physical activity levels and sedentary time.
If you are interested in finding out more information or possibly participating, please contact Brooke Cull at Brooke1@k-state.edu or Sara Rosenkranz at SaraRose@k-state.edu.