May 1, 2023
Pop-up history event in Sunderland Foundation lab honors Mental Health Awareness Month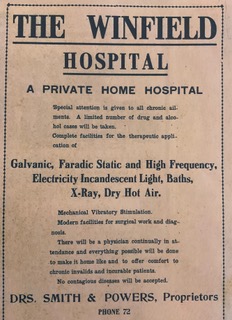 In honor of Mental Health Awareness Month, all are invited to a free pop-up history event May 3-5 on the second floor of the Sunderland Foundation Innovation Lab in Hale Library.
"Unsolved Histories," a Chapman Center for Rural Studies project supported by the College of Arts and Sciences in collaboration with the Sunderland Foundation Innovation Lab, will host a three-day self-guided pop-up history event on the Winfield State Training School.
The school opened in 1881 to support the mental health needs of Kansans while providing training for nurses, educators and staff. One hundred years later, the hospital was shuttered under a cloud of controversy and scandal. Heather McCrea, associate professor of history, and Traci Brimhall, professor of English and poet laureate of Kansas, with undergraduate researchers Alex Partin, senior in history and political science; Marta Richenberg, senior in history and political science; Nina Behrens, junior in history; and Campbell Elliott, senior in English; explore the complex history of this institution, shedding light on approaches to mental health treatment over the years. The exhibition combines photos, stories and creative engagements to dive deeper into the historical significance of the Winfield State Hospital, from its innovative art therapy program and meaningful collaborations with community members to its more fraught moments connected to early mental health practices.
This public-facing event is part of a larger partnership with Cowley County Historical Society to digitize and preserve valuable archives related to the Winfield State Training School. Over the past year, students digitized and created finding aids for eight boxes of archival materials, including photographs, correspondence, and reports that document the day-to-day experiences of the patients and staff who called the Winfield State Training School home.
"Researching the lost stories around mental health treatment in Kansas has taught me so much about both terrible things that have happened in our history, as well as the wonderful art and outreach programs," Brimhall said. "So many wonderful nurses, teachers, doctors and program facilitators have been a part of shaping Kansas' mental health history, and the stories and activities we've put together are meant to help the past be in dialogue with the present. Hopefully the exhibit showcases the good, the bad, and even the incredibly beautiful parts of history."
The exhibit will be available during the Sunderland Foundation lab's operating hours May 3-5. Please contact chapmancenter@k-state.edu for more information.