May 1, 2023
K-State entomology students buzz with excitement after winning big at regional meeting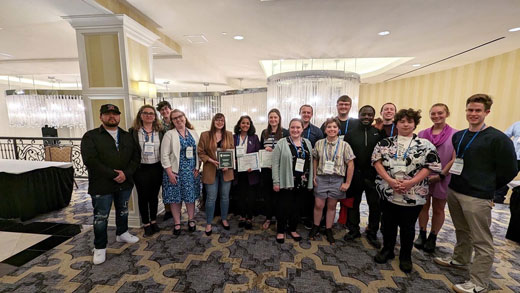 K-State entomology students swarm together after spreading their wings and networking with other entomological professionals and like-minded peers.
The entomology department at Kansas State University made a strong showing at the recent joint meeting of the North Central and Southwestern Branches of the Entomological Society of America in Oklahoma City, Oklahoma. With more than 7,000 members worldwide, the society provides students with valuable opportunities for professional development and networking.
Several students, faculty and colleagues from the USDA's Agriculture Research Service presented their research through posters or oral presentations with some earning top rankings. View the full PDF program.

Cameron Osborne, who is advised by Kristopher Silver, associate professor of entomology, won first place in the Ph.D. Papers I category for his work on "Stage-specific expression of putative dsRNA-degrading enzymes in the biting midge Culicoides sonorensis (Diptera: Ceratopogonidae)."
Sabita Ranabhat, co-advised by Rob Morrison, research entomologist at USDA's Agriculture Research Service, and Kun Yan Zhu, university distinguished professor of entomology, received first place in the Ph.D. Posters category for her work on "Insecticide-treated netting deployment helps to improve fumigation efficacy in bulk storage at food facilities."
Nicole Kucherov, advised by Tania Kim, assistant professor of entomology, also earned third place in the Ph.D. Papers IV category for her research on "Predicting the spatial distribution of the invasive Japanese beetle, Popillia japonica Newman, in the American Midwest."
In addition to these accomplishments, graduate student Hannah Quellhorst, co-advised by Morrison and Zhu, was honored with the John Henry Comstock Award for the North Central Branch of the Entomological Society of America. This prestigious award is given to only one outstanding graduate student per branch division and includes an all-expenses-paid trip to the society's national meeting, a $500 cash prize and a certificate of recognition. Being one of the six branch-level winners, Quellhorst will have a chance at receiving the honor at the national level at the society's national meeting in November 2023. Quellhorst's research focuses on improving the management of maize in developing countries, with a particular emphasis on issues of food security and the empowerment of women. She has demonstrated impressive productivity, having published nine peer-reviewed papers and having given more than 50 presentations, and she is also active in professional service, including serving as the 2021 NCB Student Affairs Committee chair and an incoming Entomological Society of America Science Policy Fellow.
Finally, the K-State Entomology Games Team, consisting of Osborne, Brandon Hall, Rachel Johnson, Festus Ajibefun, Gus Brunette, Kucherov and Dani Otten, placed second in the Entomology Games competition and will represent the department at the national meeting in the fall. The Entomology Games provide an opportunity for student teams from different universities to compete in a college bowl-style contest testing their knowledge of entomology facts. The top two teams from each branch division advance to the national competition.
To stay in the loop about all the buzz-worthy happenings at the entomology department, follow the department on Facebook, Twitter, or Instagram at @KStateEntom.