November 29, 2022
Park to present Nov. 30 Distinguished Graduate Faculty Lecture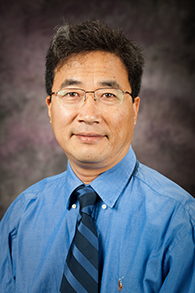 The Graduate School recognizes Yoonseong Park, professor of entomology, as a 2022-2023 Commerce Bank and W.T. Kemper Foundation Distinguished Graduate Faculty Award recipient. Park will make a public presentation on his work at 1:30 p.m. Wednesday, Nov. 30, in Town Hall at the Leadership Studies Building. The title of his talk is "Molecular galaxy of insect neuropeptides."
Park's research in insect molecular physiology is internationally recognized and focuses on arthropod pest species. He and his colleagues boast multiple advancements in their field, including the documentation of the neuropeptidergic signaling system in multiple arthropod species, and identification of several new insect neuropeptides and their corresponding receptors.
Park has secured 31 grants and contracts totaling more than $7 million from various agencies for his research and his papers are published in highly respected journals, including the Proceedings of the National Academy of Sciences of the United States of America. Park's commitment to graduate research and education at K-State is evidenced by his devoted mentorship of students and postdoctoral researchers. His students have continued their careers in science as faculty members or research scientists of national and international distinction.
All are invited to attend Park's presentation.