November 16, 2022
Institute for American Universities receives International Innovative Education Program of the Year award
Submitted by Grant Melton Chapman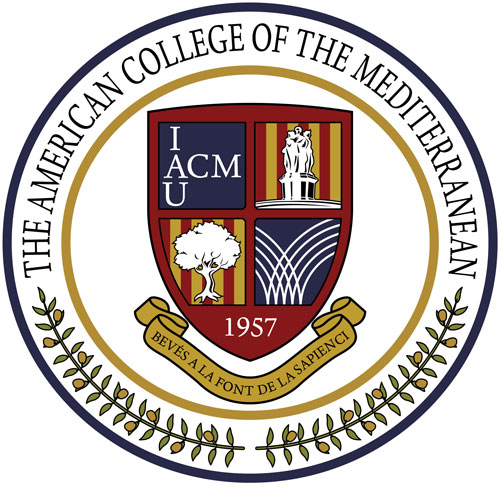 The Kansas State University Office of International Programs recognizes the Institute of American Universities, or IAU, at the American College of the Mediterranean as the recipient of the 2022 International Innovative Education Program of the Year Award.
The annual recognition, announced during International Education Week, is awarded to an external organization that goes above and beyond promoting international education initiatives and/or serving our global student body. Established in 2012, the International Innovative Education Program of the Year Award is determined by the Kansas State University Office of International Programs leadership team.
Founded in 1957 in Aix-en-Provence, France by former U.S. state department representatives seeking to build a training ground for future diplomats, Institute of American Universities is the longstanding study abroad institute of the American College of the Mediterranean, providing up to yearlong opportunities for U.S. undergraduates in France, Spain and Morocco. Its U.S. nonprofit status, along with a supportive network of more than 25,000 alumni and generous board of trustees enables IAU to not only provide institutional discounts with U.S. partner institutions like K-State, but create unique scholarships and financial aid, over and above the typical merit and need-based types of assistance. This is in keeping with Institute of American Universities' commitment to break down the cost barriers to studying abroad.
"IAU established and funded the Allison Benson Memorial Scholarship in 2020," said Grant Chapman, associate provost for international programs. "The scholarship is named for Allison Benson, a Kansas State student who tragically lost her life in 2020 while living her dream of studying and living in Aix-en-Provence, France on an IAU program. The full tuition scholarship is for a student studying French at K-State who wishes to continue those studies through an education abroad program with IAU; it is awarded each semester/term and is sponsored by IAU and K-State while administered by K-State's French department."
"We are edified by the honor bestowed upon us by Kansas State University," said President of IAU-ACM, Carl Jubran. "As difficult as Allison's death was on all of us in the respective Kansas State and IAU-ACM communities, not to mention the amazing, resilient Benson family, we take solace in knowing that the door is open for fellow K-State students to turn their dreams into a reality, just as Allison did. We look forward to our continued collaboration with K-State and to focusing on our shared goal of creating access for as many students as possible, each of whom will make a positive impact on our global community."
Chapman added, "The OIP team felt strongly that IAU's generous gift of a full tuition scholarship in France has already benefited a few students and will benefit Kansas State students for years to come. This is a wonderful tribute to the memory of Kansas State student Allison Benson."
Noted past recipients of this award:
2018: The Australian-American Fulbright Commission and the Oz to Oz Program and K-State for hosting the only U.S. Distinguished Fulbright Chair in the U.S.
2019: The Mandela Washington Fellowship for Young African Leaders administered by IREX.
2020: Saudia Airlines for sponsoring students at the Aerospace and Technology Campus, Salina.
2021: Institute for International Education for advocacy of and granting emergency funds to international students during a pandemic.