November 16, 2022
Hutchinson chairing Engineering Research Visioning Alliance's standing council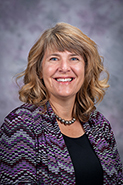 Stacy Hutchinson, associate dean for research and graduate programs and professor of biological and agricultural engineering within the Carl R. Ice College of Engineering, is serving a one-year term as chair of the standing council in the National Science Foundation-funded Engineering Research Visioning Alliance, or ERVA.
Hutchinson has been involved with the organization's standing council since its inception in 2021. The group works with others across a variety of institutions and industry partners to solicit and integrate input from all stakeholders with interest in engineering research into the work alliance is doing.
"I am grateful to represent the Carl R. Ice College of Engineering, K-State and the state of Kansas in such important work through the ERVA standing council," Hutchinson said. "This organization is directly involved with charting the course for future engineering research, and it's exciting to play a role in these efforts."
The alliance was formed to identify and develop new engineering research directions and to catalyze the engineering community's pursuit of innovative, high-impact research that benefits society. It accomplishes this by convening multisector and cross-disciplinary engineering researchers, practitioners and technologists to work jointly to solve the most challenging problems of modern society.