August 19, 2022
K-State faculty hosts DOT assistant secretary for rural listening tour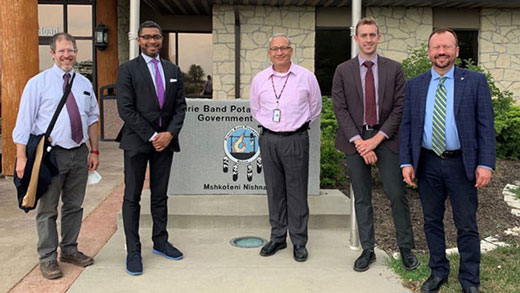 From left: Gregory Newmark, research associate professor of civil engineering; Christopher Coes, DOT assistant secretary for transportation policy; Joseph Rupnick, chairman, Prairie Band Potawatomi Nation; Alex Clegg, transportation specialist with DOT; and Rick Backlund, Kansas division administrator for the Federal Highway Administration.
As part of his visit to the region in July to give the plenary session at the 2022 National Regional Transportation Conference put on by the National Association of Development Organizations, U.S. Department of Transportation Assistant Secretary Christopher Coes was invited to a series of stops in rural Kansas as part of a listening tour to help connect the federal government to the many infrastructure issues facing Kansans of all types.
The tour included three afternoon stops, including the Kansas Department of Transportation in Topeka, the Prairie Band Potawatomi Nation in Mayetta, and a rural roundtable in Alma, hosted by the Flint Hills Regional Council.
Helping organize the event was Gregory Newmark, research associate professor in the civil engineering department of the Carl R. Ice College of Engineering, and Federal Highway Administration Kansas administrator Rick Backlund.
"This is a nice example of K-State facilitating its land-grant mission by connecting the federal government to the pressing rural and tribal infrastructure issues facing the nation," Newmark said. "There is so much opportunity to invest in rural America through the recent passage of the Bipartisan Infrastructure Law — this was a great chance to show Secretary Coes and his staffers the importance of their work for this region."