February 28, 2022
Diversity Programs Office spring update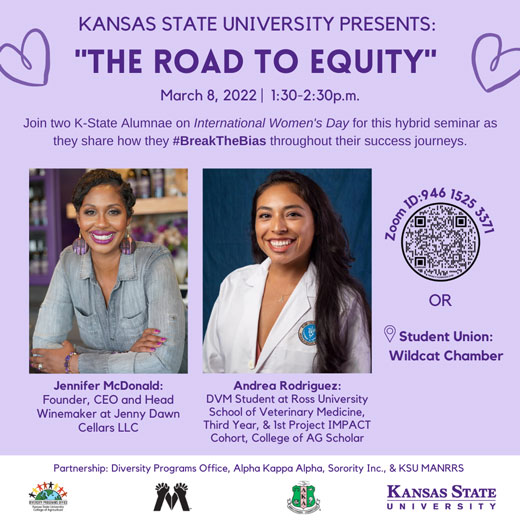 In celebration of National Women's History Month, the College of Agriculture/KSRE Diversity Programs Office and the K-State Minorities in Agriculture, Natural Resources, and Related Sciences, or MANRRS, Chapter is preparing for an exciting month.
Kicking off the month, join the Diversity Programs Office on March 1 for the keynote presentations of the 2022 Distinguished Young Alumni award winners: James Millsap, a 2011 College of Agriculture alumnus, previous K-State MANRRS member and current inclusion and diversity strategy manager for Dick's Sporting Goods; and Sruthi Narayanan Kutty, a 2011 and 2015 College of Agriculture alumna and current assistant professor for crop physiology at Clemson University. The Distinguished Young Alumni program is in its ninth year, and we are excited that both recipients are College of Agriculture graduates. Learn more about the 2022 recipients.
In celebration of International Women's Day, we have a full schedule of events on March 8. Starting the day, join us for a universitywide networking and educational event led by the Center for Principled Business. The event will take place at the Business Building from 10:30 a.m. to 1:30 p.m. You can meet with various student organizations, including K-State MANRRS and Ag Ambassadors at K-State, whose mission is to achieve equity for all. During this time, there will also be women-owned food trucks available outside of the Business Building for lunch or a snack.
After the booth fair, the College of Ag Diversity Programs Office and K-State MANRRS Chapter will host a hybrid seminar from 1:30-2:30 p.m. March 8 in the Wildcat Chamber at the K-State Student Union or Zoom ID: 946 1525 3371. The seminar will highlight the "Path to Equity" for two minority K-State women alumnae: Andrea Rodriguez, third-year Doctor of Veterinary Medicine student at Ross University School of Veterinary Medicine and a participant in the first Project IMPACT cohort at K-State, and Jennifer McDonald, founder, CEO and head winemaker of Jenny Dawn Cellars LLC, College of Agriculture Master of Agribusiness graduate and the first African American woman to open an urban winery in Kansas.
To continue the celebration of Women's History Month, the Diversity Programs Office will partner with the Alpha Kappa Alpha Sorority Inc. — Kappa Pi and Mu Eta Omega Chapters, K-State MANRRS, and the American Heart Association for an informational session from 5:30-6 p.m. March 8 surrounding women's heart health via Zoom ID: 963 4117 5855.
On March 23, the College of Agriculture and K-State MANRRS will partner with the Indigenous Faculty and Staff Alliance and Diversity and Multicultural Student Affairs to host an Indigenous Student College for a Day. On March 24, a 10-student delegation will depart for Jacksonville, Florida, to participate in the 2022 National MANRRS Conference. The students attending the conference will be competing at a national level, as well as networking with hundreds of students and industry professionals. We know the delegation will represent K-State well.
As a reminder, continue to show kindness to others, as you never know the battles they may be fighting, especially during these unprecedented times. If you would like to see more of what is to come, please visit our social media pages — Facebook, Twitter, Instagram — or contact Zelia Wiley, assistant dean and director of diversity programs, at 785-532-5793 or zwiley@k-state.edu.