February 28, 2022
Eakin and Williamson accepted into Emerging Leaders Network program
Submitted by Human Capital Services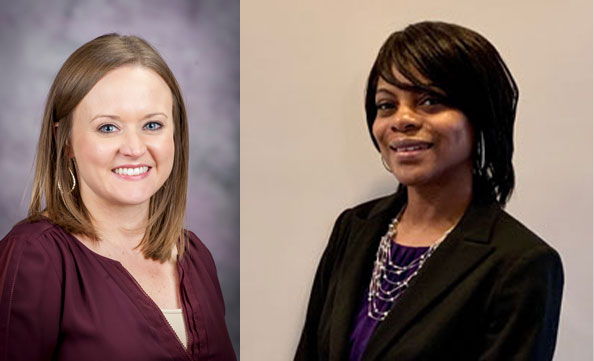 Human Capital Services' Megan Eakin, learning and development manager, and LaVerne Williamson, employee relations and engagement specialist, have been accepted into TIAA's Emerging Leaders Network program.
The Emerging Leaders Network provides leadership development opportunities through training and interaction with peers in several areas of human resources from similar institutions and covers a broad range of topics, including understanding the world of higher education and human resources, deepening understanding of human resources technical topics and growing leadership skills.
Eakin and Williamson were selected from a field of approximately 60 applicants for the fourth Emerging Leaders Network program, and will have multiple opportunities to form relationships, deepen their human resources knowledge, and reflect upon and build their leadership skills among human resources professionals from 28 institutions.
"I'm grateful for this opportunity to grow my leadership skills, human resource knowledge and network with professionals from other higher education institutions," Eakin said. "I anticipate being able to better serve the university with the newly acquired knowledge."
"I am truly grateful for this opportunity to learn and grow with professionals across the nation in the field of HR," Williamson said. "I love the work I do and look forward to enhancing my skills through Emerging Leaders Network to better assist employees at Kansas State University."
Eakin earned her Korn Ferry Leadership Architect certification in 2018. She is currently a member of the Kansas chapter of College and University Professional Association for Human Resources, previously serving on the conference planning committee. Eakin was instrumental in launching the K-State Supervisory Foundations Pillar I program and is engaged with departments across campus to strengthen skillsets of all faculty and staff. She earned her Bachelor of Science in elementary education at Oklahoma State University.
Williamson is an alumnus of Kansas State University where she earned a Bachelor of Science in business and a Master of Public Administration with an emphasis in personnel management. Williamson is energized through coaching, training and partnering with departments across the university to cultivate work environments that reflect the Principles of Community and appreciation in the workplace. She also finds great fulfillment in empowering employees to resolve workplace disputes and build meaningful relationships through utilizing effective communication tools.
TIAA is one of two mandatory retirement plan providers at Kansas State University.
The Emerging Leaders Network program began in 2015 and its cohort will begin in summer 2022.