February 28, 2022
Scholars Aimee Bahng and Thea Quiray Tagle in conversation on Thursday, March 3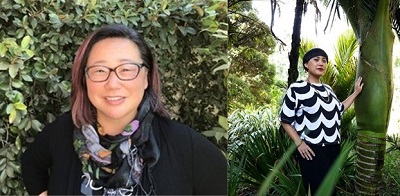 On Thursday, March 3, at 4 p.m. via Zoom, scholars Aimee Bahng and Thea Quiray Tagle will be in conversation about speculative resurgence, art, and aesthetics in relation to Asian American cultural forms. Registration is free but required at tinyurl.com/bahngtaglekstate.
Their moderated conversation is part of the English department's 31st annual Cultural Studies Symposium.
Bahng is an associate professor of gender and women's studies at Pomona College. Her prize-winning book, "Migrant Futures: Decolonizing Speculation in Financial Times" (Duke University Press, 2018), examines narrations of futurity, from speculative fiction by writers of color to the financial speculations of the 1%.
A member of the Keywords Feminist Editorial Collective, Bahng also co-edited the  "Keywords for Gender and Sexuality Studies"  (NYU Press, 2021), co-authoring the introduction and the entry on "Race" as well. Her current teaching and research interests focus on the intersection of critical environmental justice, U.S. imperialism in the Pacific, and queer-feminist science and technology studies.
Tagle is a curator, writer and assistant professor of ethnic studies and gender and sexuality studies at the University of Massachusetts, Boston. Throughout her research and creative projects, Tagle explores how socially engaged art and performance can move us, collectively and individually, to inhabit the world and relate to each other in ways that are non-extractive, anti-capitalist and queer.  
Tagle's writing on contemporary art and site-specific performance, photographic histories of violence and waste, and speculative futures in and across the Pacific can be found in scholarly and popular publications including  ASAP/J, American Quarterly,  BOMB Magazine  and Hyperallergic. Her curatorial projects have been exhibited at venues including Yerba Buena Center for the Arts in San Francisco, Berkeley Art Center and the Vachon Gallery at Seattle University.
"I'm so excited for K-State to be in dialogue with Drs. Aimee Bahng and Thea Quiray Tagle, two cutting-edge Asian American studies scholars who ask us to imagine a more ethical world based on intersectional solidarities, epistemic humility and promiscuous wonder," said Tom Sarmiento, associate professor of English, director for the program in cultural studies and moderator for the event. "Their respective critical engagements with speculative fiction and socially engaged art invite us to recognize the power and the poetics of the creative arts to enact social change."
For more information about Bahng's work, visit her website.
For more information about Tagle's work, visit her website.
The event is sponsored by the English department in the College of Arts and Sciences and the department's graduate track in cultural studies.