September 16, 2021
SafeRide is now operating through Lyft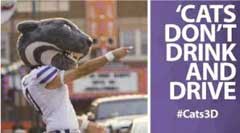 SafeRide is now operating through Lyft.
The Center for Student Involvement announces a partnership with Lyft for the SafeRide program. Instead of taking the ATA bus after a night out, students will now have the opportunity to use Lyft services on the Lyft app through their K-State accounts.
SafeRide provides students free or discounted late-night rides from 10 p.m. to 3 a.m. Thursday-Saturday. All students living on the Manhattan campus and enrolled in three or more credit hours are eligible for SafeRide.
Many students so far have found this program to be beneficial and 97% would recommend this service to others.
Please share this information with a friend and also remind them to be safe. Although the SafeRide program is safe for all students, driver impersonators do exist. Remember to always ask your driver, "what's my name?" before entering the car with them. We want to see all our Wildcats safe and healthy. Read more about the S.A.M.I. and #WHATSMYNAME safety foundations.