Buyle family to be honored as Kansas State University's Family of the Year

Thursday, Sept. 16, 2021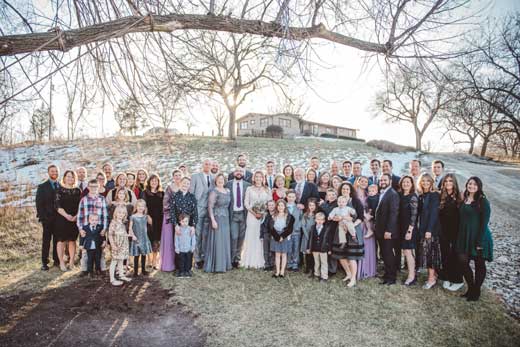 MANHATTAN — A family who moved to Manhattan nearly 50 years ago and stayed because of Kansas State University is being honored as K-State's 2021 Family of the Year.

The Buyle family will be recognized during the university's 93rd annual Family Weekend at the K-State football game versus Nevada on Saturday, Sept. 18, at Bill Snyder Family Stadium.

The members of Chimes Junior Honorary select the Family of the Year based on their affiliation with K-State, what family means to them and their demonstration of K-State pride.

"The Buyle family is a large, close family and they have been involved with K-State for many years," said Brianna Streeter, Chimes' co-director of events. "For three generations and many more to follow, each member has left their mark and became a forever member of the K-State family."

Natives of Detroit, Michigan, the Buyles, Ken '85, and Kathy '86, '89, moved to Manhattan in 1973 when Ken was stationed at Fort Riley. They had no prior connection to the city.

"They fell in love with the community," the family's nominator said. "They became avid Wildcats and chose to remain in Manhattan to raise their family when Ken retired in 1979 as a lieutenant colonel after a 23-year Army career."

This was just the beginning of the family's extended K-State history.

According to their application, in 1979 after his Army retirement, Ken became the chief financial officer for K-State's Division of Biology and Kathy enrolled at K-State to begin her undergraduate studies in speech pathology and audiology. She continued on to earn a master's degree in special education and Ken worked in the division for 35 years until his retirement in 2014. He also earned his master's degree in marriage and family therapy from K-State.

Education has always been a priority for the Buyle family. Five of their six children are K-State alumni, five of six daughters/sons-in-law attended K-State, and 10 of their 17 grandchildren are alumni or are enrolled for the fall 2021 semester. Including spouses, a total of 28 K-State degrees over three generations have been awarded to the extended Buyle family.

The Buyles also have experience serving the university in many capacities.

The Buyles' son Mark, '88, was elected as one of two 1987 K-State Student Ambassadors during his senior year. Daughter Suzy Buyle Auten 86, '05, is director of the Professional Master of Business Administration Program for K-State's College of Business Administration. Son-in-law Robert Auten, '91, is K-State's associate registrar, and son Ray Buyle, '84, '10, is department head of the GE Johnson Department of Architectural Engineering and Construction Science in the Carl R. Ice College of Engineering.

"The Buyles are a family that represents what it means to be Wildcats through their support for each other and the university," Streeter said. "They embody what it means to be a family, to support each other, and what it truly means to be a part of the K-State family."