May 11, 2021
Be Stoney appointed interim chief diversity and inclusion officer
Submitted by Office of the President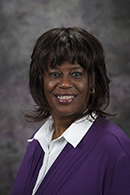 Following an internal search, Be Stoney, a longtime Kansas State University College of Education faculty member with extensive diversity, equity and inclusion training experience, has been appointed interim chief diversity and inclusion officer by President Richard Myers.

Stoney will serve while a national search is conducted to permanently fill the post left vacant by the departure of Bryan Samuel.

"As an educator with a strong background in diversity training, Dr. Stoney's experience will be an asset as she fills the vital position of interim chief diversity and inclusion officer," Myers said. "She will be relied upon to help the university promote a culture of inclusion where individuals from all racial and ethnic identities, ages, nationalities, social and economic status, sexual orientation, gender identity/expression, religious, political and ideological perspectives, and physical and mental abilities may thrive and engage."

Stoney also will help the university continue implementation of all diversity and inclusion plans in place, including the Action Plan for a More Inclusive K-State.

Stoney currently serves as an associate professor of curriculum and instruction in the College of Education, where she is a member of the graduate faculty and chair of the college's undergraduate academic reinstatement committee. In addition, she serves as K-State's faculty athletics representative and works closely with K-State Athletics and the Big 12 Conference on issues related to academic integrity, rules compliance and student-athlete welfare.

"My reason for applying for the interim chief diversity and inclusion officer position is to continue making a difference for faculty, staff and students at K-State," Stoney said. "Serving as a professional who must be a diplomat, confessor, a sounding board, innovator of ideas, consummate business person, a dedicated educator, advisor and a coach — all at the same time — has allowed me to become confident, supportive, a relationship builder and an issues-oriented problem solver. The interim CDIO position will require me to maintain relevant knowledge and exhibit tact, leadership, foresight, care and compassion for human beings, all of which match my skills and dovetail with my desire to contribute to the university. I enjoy working with people from diverse backgrounds and learning more about them personally and professionally."

As a person of color, Stoney uses a multiple-lens approach that infuses race, ethnicity, culture, equity, inclusion and diversity as integral parts of her teaching and life. She has provided diversity, equity and inclusion training for Canada Olympic Training Center Diversity Action Team and the Alliance Diversity and Executive Team for Golf Canada. Additionally, Dr. Stoney is a certified qualifying administrator for the Intercultural Development Inventory. She conducts intercultural development debriefs with administrators, students and faculty, as well as inclusion training for the Manhattan-Ogden School District and other school districts in Kansas, New Mexico, Oklahoma and Texas.

In conjunction with her work as the faculty athletics representative, Stoney has facilitated workshops and conferences for teams experiencing cultural and diversity, race-related and political issues, such as whether to kneel or remain standing for the national anthem. Last summer, she helped student-athletes cope and resolve issues raised by the Black Lives Matter movement and the George Floyd tragedy.

Stoney joined K-State in 1999 as a race equity coordinator and technical consultant with the College of Education's Midwest Equity Assistance Center. She was subsequently hired as an assistant professor of secondary education with the college in 2000 and was promoted to associate professor in 2005. She currently serves as coordinator of the physical education and health program for the curriculum and instruction department and teaches several undergraduate courses for the program.

Before joining K-State, Stoney was a special education teacher and department chair at the middle school level.

Stoney earned a bachelor's degree in secondary education-special education/health education and a master's degree in kinesiology from the University of Texas, El Paso and a doctorate in special education/multicultural education from the University of Texas, Austin.