May 11, 2021
Director named for the new Vern and Joan Herbel Accounting Academy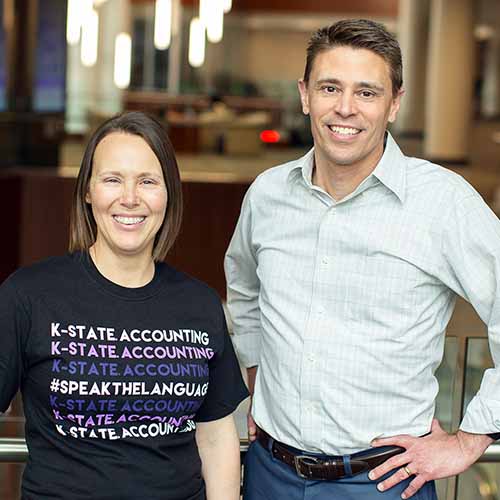 Sheila Coomes will be the inaugural director of the Vern and Joan Herbel Accounting Academy in the accounting department of the College of Business Administration.
As the director, Coomes will lead the development of accounting classes for high school students and the #Speak the Language Accounting CAT Community that will launch this fall for freshmen planning to major in accounting.
With no AP classes offered at the high school level, the programming made available through the academy will enable high school students throughout the state of Kansas and beyond to explore business and accounting and to learn about career paths and opportunities available in the field.
"My passion is students and at K-State accounting, the students in our program are top-notch," Coomes said. "They are at the core of my why, why I do what I do. I am excited that I get to be more involved and spend time focusing on students, what matters to them, and help our team of faculty and staff support these students to enable success in the accounting program and in the accounting profession."
The academy was established in April through a generous endowment from K-State alumni Vern and Joan Herbel.
"The Vern and Joan Herbel Accounting Academy is the first pillar of our new School of Accountancy," said Brett Wilkinson, head of the department of accounting. "This is truly a transformational gift and will help us raise our program to an even higher level of excellence."
"Sheila is an energetic and enthusiastic teacher with a commitment to student success," Wilkinson said. "She brings the right mix of leadership and interpersonal skills that will enable her to successfully establish the academy in the national accounting landscape."
Read more about the Vern and Joan Herbel Accounting Academy here.