March 11, 2021
K-State announces new Office of Institutional Equity director and Title IX coordinator
Submitted by Office of the President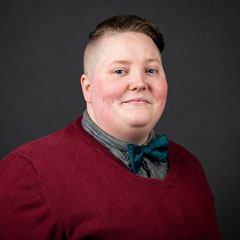 Following a national search, Stephanie Lott has been appointed Kansas State University's Office of Institutional Equity director and Title IX coordinator, effective April 1.
"We are thrilled to have Stephanie join the K-State team as our new director of OIE and Title IX coordinator," said President Richard Myers. "Stephanie has a tremendous background in higher education and compliance programs. Her management experience and commitment to the areas of Title IX, student conduct, equity and access, and her proven ability to collaborate with campus partners make her an asset to our campus community. Stephanie will continue to foster a cooperative environment at K-State that is rooted in respect and fair practices."
Lott has been at Arkansas State University since 2015 and most recently served as the Title IX and institutional equity coordinator for which she has developed, implemented, and monitored policies, procedures, and practices designed to comply with federal regulations, state legislation, and case law. Lott has also served as director of student conduct, deputy Title IX coordinator, and student conduct coordinator. Before joining Arkansas State, Lott was at Western Kentucky University where she served in a resident hall director capacity since 2012. Lott is a member of the Association for Title IX Administrators.
Lott earned a master's degree in education in student affairs in higher education at Western Kentucky University and a bachelor's degree in English and communications studies at Southeast Missouri State University.
Lott succeeds Demetrius Peterson, senior counsel at Husch Blackwell, who has been serving as the interim director of OIE and Title IX coordinator since January 2021.
The Office of Institutional Equity is engaged in training, outreach, affirmative action planning, equal employment opportunity compliance and conducting investigations in accordance with PPM 3010, laws, regulations, executive orders and other applicable policies that uphold equal opportunity and civil rights laws.
The Office of Institutional Equity has a dual reporting relationship to the president for purposes of investigations and to the chief of staff and director of community relations for day-to-day operations.
Any person may report concerns of discrimination, harassment, sexual harassment and/or retaliation by filing a report using the contact information at k-state.edu/oie/file-complaint.html. You can find more information about the Office for Institutional Equity on its website.