March 8, 2021
Grants available for sustainability projects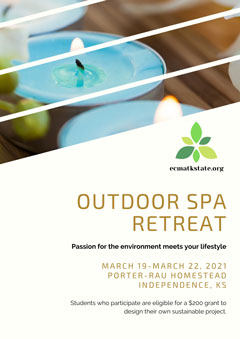 ECM at K-State student organization will host its Sustainability Retreat March 19-22 on an organic farm. It includes hands-on camping options, farm-fresh homemade food, meditation and an outdoor spa experience.
Each participant must apply for the retreat weekend, which is free to students. Applicants also receive a $200 grant to design their own sustainability project.
Learn more at ecmatkstate.org/sustainability-retreat.html or contact ecmatksu@gmail.com.