March 8, 2021
Center for Advocacy, Response and Education hires new survivor advocate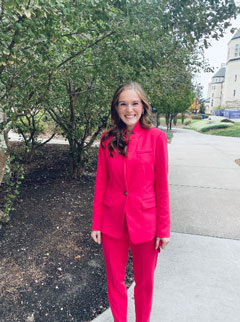 The Center for Advocacy, Response and Education, or CARE, welcomes its newest team member, Alayna Colburn.
In her role at CARE, Colburn is a confidential survivor advocate, available to meet with K-State students, faculty and staff members who have experienced sexual violence, dating or domestic violence, stalking, or sexual harassment.
Colburn received a Bachelor of Science in sociology and a Bachelor of Science in psychology in 2014 and a Master of Arts in sociology in 2016. She recently earned her Doctor of Philosophy in sociology in November 2020. She specializes in criminology and has taught classes on sociology, the criminal justice system, family violence and policing. She also volunteers her time in the Manhattan community by serving as a member of the Fair and Impartial Policing working group which is a partnership between selected citizens of Riley County and members of the Riley County Police Department.
Colburn started in her role at CARE on Dec. 21 and is excited to utilize her academic expertise to assist survivors through serving as a survivor advocate in the CARE office.
Colburn is an avid runner, so she can oftentimes be found running the streets and trails around Manhattan or spending time with her friends, family, and beloved cat and dog. She also enjoys frequenting local coffee shops to read and volunteering with various organizations in the community.
Survivor advocates collaborate across identities and shed light on the realities of psychological, emotional, financial, physical and sexual forms of violence. For more information or to set up an appointment with a confidential advocate, email ksucare@k-state.edu or call 785-532–6444.