March 8, 2021
Erin Yelland and Joel Matthews recognized as Professors of the Week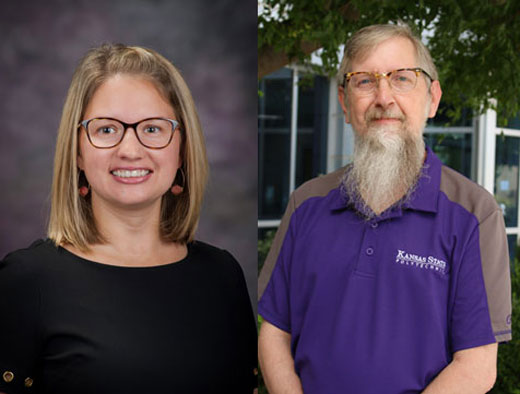 Erin Yelland, left, and Joel Matthews, were recently recognized as the Professors of the Week.
Erin Yelland, assistant professor of adult development and aging representing K-State Research and Extension in the applied human sciences department, and Joel Matthews, a psychology instructor in the School of Integrated Studies at Kansas State University Polytechnic Campus, were recognized as the Professors of the Week at the March 6 men's home basketball game. Faculty Senate, the Office of the President, K-State Athletics and the Division Communications and Marketing wish to recognize these individuals' contributions to K-State.
Yelland's extension and research program is focused on enhancing the health and wellness of Kansans across the lifespan to promote optimal aging. Her strong research- and evidence-based outreach focuses on statewide and regional needs assessments, environmental scans, and stakeholder input. Since she began her career at K-State in 2015, she has authored multiple complete extension curricula, including one that has reached more than 1,500 K-State students. She has chaired, co-chaired, or served on 10 master's and two doctoral committees to completion and currently serves on an additional 12 master's committees. She co-founded/co-chaired the North Central Region Aging Network and co-chaired the Adult Development and Aging Workgroup within the U.S. Department of Agriculture. Yelland received the Horizon Extension Award from K-State Research and Extension for her early-career performance, enthusiasm, and accomplishments. She was selected by the K-State Center for Engagement and Community Development in the first cohort of Civic Engagement Fellows.
Matthews is the winner of the 2020 Marchbanks Memorial Award for Teaching Excellence, which recognizes a faculty member's commitment in the classroom, service to students and overall merit as a teacher. Matthews began his K-State Polytechnic teaching career in 1995 as a part-time instructor. In 2002, he advanced to a full-time position and currently teaches General Psychology, Psychology of Religion, Abnormal Psychology and Professional Conduct, Ethics and Analysis. Before joining K-State, Matthews spent 12 years as a full-time licensed psychotherapist and has maintained his professional licensure since 1990. Matthews considers a well-rounded education to be valuable and enjoys helping students broaden their horizons. He focuses on making connections and enhancing self-awareness. Matthews believes a quality education sparks personal growth.