December 4, 2019
Applied Aviation Research Center's Haritos publishes research article on unauthorized small UAS interference in National Airspace System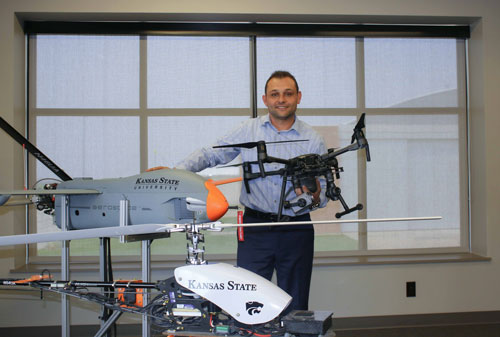 Two years ago, reported sightings of small unmanned aircraft systems, or UAS, by manned aircraft pilots averaged around 188 a month, up more than 20% from 2016. The increase of small UAS operations and their impact within the National Airspace System is the subject of a recent publication co-authored by one of the leaders of K-State Polytechnic's Applied Aviation Research Center.
Tom Haritos, associate director of research and UAS research program manager at the Applied Aviation Research Center, collaborated with faculty members from Embry-Riddle Aeronautical University and Oklahoma State University to create "Evaluating Small UAS Operations and National Airspace System Interference Using AeroScope," an article published in the Journal of Aviation Technology and Engineering. The purpose of the study was to examine the behavior of drone operators, detect flight activity, assess possible Federal Aviation Administration violations, and determine potential conflicts with other aviation operations.
Haritos and his co-authors started by partnering with a UAS technology company to deploy AeroScope — a passive radiofrequency detection device — to uncover UAS flight activity in an urban area. While AeroScope is only compatible with DJI-manufactured platforms, over a 19-day period the team was able to record 258 detections of 77 unique small UAS.
Next, the research team evaluated the operators' behavioral characteristics, including UAS models, operating altitudes, preferred flying days and times, flight durations, and operating locations. It was determined that 93 potential violations of 14 CFR Part 107 occurred, which is the FAA's regulations governing civil operations of small unmanned aircraft. Some of the infractions were breaching controlled airspace, exceeding maximum flight altitudes and flying outside of daylight.
The study concluded with potential conflicts these drones could have within the sample area, stating they may pose a risk to the visual approach of a runway, may be a collision hazard with three heliports, and may produce heightened risk for visual flight rules operations underneath a controlled airspace shelf.
To learn more about Haritos and his colleagues' research article, view the publication online.