K-State commencement ceremonies Dec. 13-14
Wednesday, Dec. 4, 2019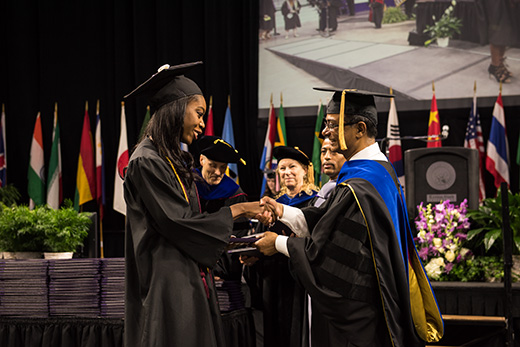 Kansas State University commencement ceremonies on the Manhattan campus will be Dec. 13-14. The commencement ceremony for Kansas State Polytechnic in Salina will be Dec. 13. | Download this photo.


MANHATTAN — More than 1,500 students are candidates for degrees from Kansas State University at upcoming commencement ceremonies Friday, Dec. 13, and Saturday, Dec. 14, in Manhattan and Salina.
To be awarded include more than 1,250 bachelor's degrees, nearly 250 master's degrees and more than 50 doctorates. More than 200 graduation candidates are earning their degrees through distance education.

Ceremonies start at 1 p.m. Dec. 13 on the Manhattan campus with the Graduate School in Bramlage Coliseum. At the ceremony, retired Army Brig. Gen. Chris King, dean emeritus of the Command and General Staff College at Fort Leavenworth, will receive an honorary doctorate and deliver the commencement address. Cheryl Harrison-Lee, Gardner, a member of the Kansas Board of Regents, will represent the board at the ceremony.

Commencement for Kansas State University Polytechnic Campus in Salina will be at 7 p.m. in the Student Life Center. The speaker will be Lee Gatton, Overland Park, who worked for more than 40 years in the computer engineering field. Gatton is an alumnus of Polytechnic and served as its 2012 Alumni Fellow.

Ceremonies on Dec. 14 will be in Bramlage Coliseum on the Manhattan campus. The schedule and speakers:

• Kimberly Kirkpatrick, university distinguished professor of psychological sciences, for the College of Arts and Sciences at 8:30 a.m. Kirkpatrick is director of the Cognitive and Neurobiological Approaches to Plasticity, or CNAP, Center, funded by a $10.6 million dollar grant from the National Institutes of General Medical Sciences.

• Whitney Morgan, the 2019 Kansas Teacher of the Year, for the College of Education at 10 a.m. Morgan earned her bachelor's degree in secondary education from K-State in 2012 and teaches English language arts to immigrant, migrant and refugee students at Wyandotte High School in Kansas City.

• Mary Lynn Manning, a retired pharmaceutical executive, for the College of Business Administration at 11:30 a.m. Manning, who earned bachelor's degrees in modern languages and general business from K-State, retired in 2016 as senior vice president of global competitive strategy for the infectious disease care group at The Medicines Company. She also worked for Bristol Myers Squibb and Novartis.

• Christine Wilson, professor of agricultural economics, for the College of Agriculture at 1 p.m. Wilson, who earned a bachelor's, a master's and a doctorate in agricultural economics from K-State, has earned many honors for her teaching, including the 2019 Agricultural & Applied Economics Association Distinguished Teaching Award — More Than 10 Years' Experience.

• Jamie Bosse, a certified financial planner and registered financial consultant with Aspyre Wealth Partners, Manhattan, for the College of Health and Human Sciences at 2:30 p.m. The author of a financial literacy book for children, "Milton the Money Savvy Pup: Brings Home the Bacon," is actively involved in the college and has served on the advisory board for the personal financial planning program since 2014.

• Chrysta Castañeda, lead trial lawyer and founding partner of The Castañeda Firm, Dallas, for the College of Engineering at 4 p.m. After earning a bachelor's degree in industrial engineering from K-State, Castañeda went on to earn her law degree from Southern Methodist University. As a lead trial lawyer in the energy industry, she has been recognized for her work by the National Law Journal. She successfully represented T. Boone Pickens in the case of Mesa Petroleum Partners LP vs. Baytech LLP.

A virtual commencement ceremony is available at global.k-state.edu/commencement for distance education students unable to attend their commencement ceremony in person. The website includes a listing of students earning degrees through distance education, a place for family and friends to post congratulatory messages, and other commencement-related offerings.

Related to commencement will be the commissioning ceremonies for Kansas State University's ROTC units on Dec. 13 in the K-State Student Union. The Army ROTC ceremony will be at 10 a.m. in Forum Hall, while the Air Force ROTC ceremony will be at 1:30 p.m. in the Big 12 Room.