November 6, 2019
Spanish students to share research from faculty-led summer 2019 study abroad program in Spain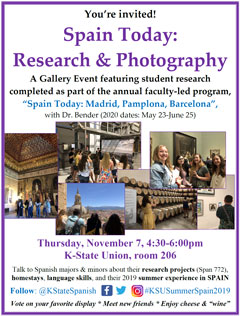 Spanish major and minor students will showcase their experiences in Spain and their research projects from 4:30-6 p.m. Thursday, Nov. 7, in 206 K-State Student Union as part of an informal, gallery-style presentation, "Spain Today: Research and Photography."
As part of the new, annual faculty-led summer program, Spain Today: Madrid, Pamplona, Barcelona, students enroll in either SPAN 565: Spanish Culture and Civilization, or SPAN 772: Spain Today; conduct interviews; and visit sites in Spain while they live and study at the Universidad de Navarra, Pamplona.
At the Nov. 7 gallery, students who participated in the program's first year in summer 2019 will share their projects and talk to other undergraduate students and faculty about their experience with the program — from homestays and coursework to cultural excursions and free-time activities.
The application for the May 23 to June 25, 2020, program, is now available on the Education Abroad website. The deadline to apply is Feb. 15, 2020.
The Spanish program is part of the modern languages department, housed in the College of Arts and Sciences. Currently, more than 60% of students pursuing modern languages degrees participate in education abroad programs, where they use languages they are learning. To learn more about the modern languages department, visit its website. To learn more about events and opportunities in Spanish, follow the K-State Spanish blog and Facebook, Twitter, or Instagram accounts at @KStateSpanish.